It has been a year since I launched my little photography business. In that time I have learned a great deal about myself and my capacity to grow as a person and a professional. I have also been able to meet several really intriguing and admirable people all because I decided I liked photography and wanted to share the way I see things through my lenses with others. I can't wait to see where this year takes me, and my camera. ;)

I got together with one of my new photography friends last Saturday. Tracy and I both share the same affinity for picture taking and we have met a couple of times to discuss equipment, taking a good picture, and even photoshop. She asked me to post a few of my pictures, before and after.
The difference is, well, magical.

I shot this picture of Larkee a few weeks ago. It was taken in my house with some really great natural light. I positioned her towards the light and with my 5D, 50mm 1.4 shot this:
Details: f/1.4, 1/160sec., ISO-400. This is SOOC(straight out of the camera)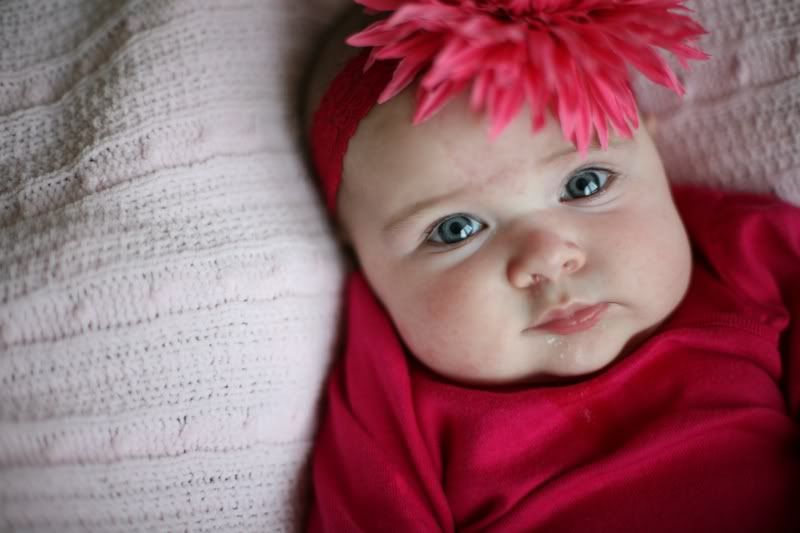 Tracy asked me to give a play by play of what I did with the picture. I didn't save it as a photoshop file so I don't have all the steps. I cropped it to get in closer then I know I cleaned up her little snotty/droolly face and nose, and her birthmark on her forehead with the clone stamp tool. Then I sparkled her eyes, touched up the color with curves and the Oh Snap! action from
this
set, and then I ran the Lord of the Rings Everyday action from
this
set. I made her eyes crisp by following the directions on the action, then I sharpened it and almost kissed the screen when I saw this...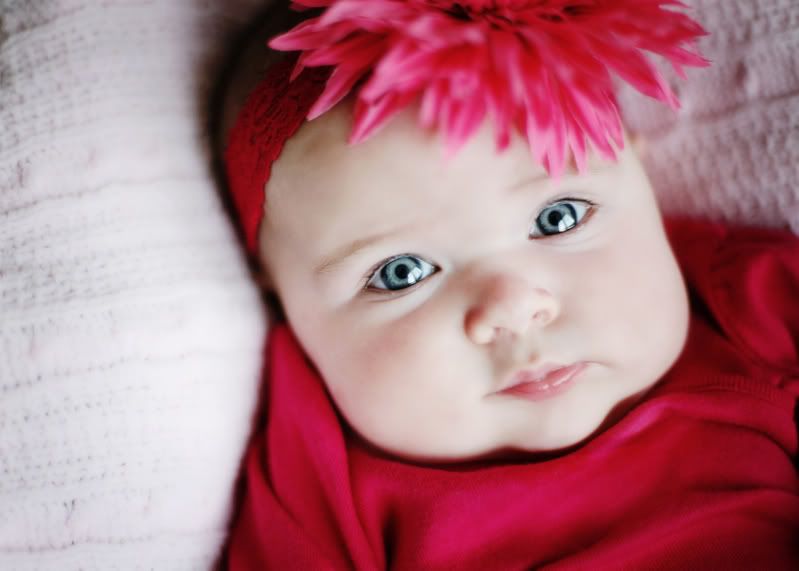 pretty amazing, huh?
I am in love with the following image too. I shot this one recently. It was taken outdoors with some great afternoon light. My subject had to duck a bit to stay in all the even light but I was so pleased with the color. You will remember this image from my shoot with Jennifer. This is what it looked like SOOC. Once again I shot this with my 5D and my 50mm 1.4.
Details: f/1.4, 1/2000, ISO-250.
Once again I didn't save it as a photoshop file, but I remember doing minimal work to this picture. I lightened the overall exposure with curves, cleaned up her eyes just a bit, made them sparkle with
this
action, then I enhanced the color with Oh, Snap!, I played with the curves a bit more to make it "snappy" as my
#1 photography muse
would call it, then I
sharpened
it and wanted to enter my subject in the next America's Next Top Model competition when I saw this:
I used to think,"How will I ever get my images to look like that..." when I saw something I really admired or was inspired by in the arena of photography. I still do say that...often, but now I am realizing that it is more than just having a good eye, great equipment, and an understanding of light and exposure. It also takes a little bit of photoshop magic to give noteworthy images a little extra eye appeal.
There is so much to learn about photoshop. I will probably only know a fraction of its capabilities when I die, but for now I am grateful for the photoshop fundamentals I do know and can use to help me create a little bit of photo magic!!
Hope this was kind of what you were looking for, Tracy!! ;) (and anyone else out there who was interested in some before and after action!!)