I love bath time, for several reasons. First, it washes away the little boy funk Gunnar accumulates through the day and makes him smell sweet, like a little watermelon. (That's what his bath gel smells like right now. He chose it at Target the other day; I allowed him to place it in the cart because it smelled like summer.) The other reason I love bath time is because it means the day is drawing to a close and if I am lucky I will be able to spend a few still moments with my groom, alone, on the couch talking, watching our shows, or just being.
I snapped this bath picture actually yesterday morning. He had gotten out of the tub ran towards me and then ran back. I was inspired by his little wet prints and his naked bum with a curious birth mark. (I prefer birthmark over mole. ;) We have to get that removed before his locker days start.)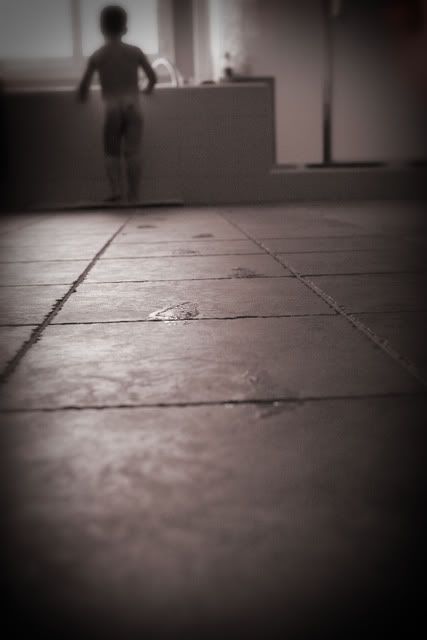 Ok. Gunnar, newsflash son! Chicks dig their men dry and clean. They also are not at all attrached to the sound of scrunching paper whenever you move. I am not rushing you, nor am I forcing you, consider this a small nudge. Diapers, your current waste management system, are not nearly as cool as the Thomas the Train or Pirates of the Carribean underwear I just bought you.




What do you say little man? I promise the toilet will not eat you. Want to give them a whirl? (Ha, no pun intended. I'm killing myself tonight!) Think it over and we can have more potty talk later. I love you and I love all the progress and growth you are making at whatever speed you want to make it.

Thanks for helping Dad dig holes in the backyard; it is going to be a great place to play soon. Thanks for snuggling next to me when I feel sick; you are the best doctor in this family. Thanks for being who you are: a stinky little boy who loves taking a bath.
xoxo Mommy Mom