November has been busy. I had to write a 20 page paper and create a 25 slide presentation for grad school. My daughter has had a slew of "getting used to earth" problems. My son has had stomach flu and was slammed with double ear infections. There was a holiday followed by much decorating for the next holiday. AND I have had a shoot every weekend sometimes twice a week. (In fact I have been so inundated with picture work that I have had to turn some people away. :( That makes me so sad. Sometimes I wish I had a time drive-thru. I would like to add a few hours of time on to some of my days.)The month has gone by at warp speed. I am grateful for the work, the challenge, and the health we have now.
I am also grateful for all of the families I have been able to meet this month. It has been fun meeting new people and seeing new family dynamics. After each session I leave with a greater sense of family and the importance we are to each other. Thank you to every family that has welcomed me into their homes for a little bit of time this month; I have enjoyed you all tremendously.
Last Wednesday I shot a family (that sounds so funny!!) that had me in stitches; I was laughing so hard. They were good stuff. The kids weren't afraid to hug each other and hold hands; the parents were super, ultra hip and cool. All together they made for a great afternoon! And their house...it needs to be in a parade of homes. It is so stunning. If anyone is looking for a decorator or a mason let me know. I have contacts for you after last Wednesday's shoot. ;)
Let's start with the smallest shall we? Sadie. Her mom told me her initials are SAS. She is sassy, that's for sure. I love that quality though in girls. They can hold their own; that is important.
Sadie loves Monkeys. Isn't it interesting the things we are gravitated to? I love Nordstrom and microscopes. Sadie, monkeys.
This girl is spunk, sas, and spirit all rolled into one. It was impossible to be around her and not be smiling or laughing.
Aren't her curls to die for?
In between two sisters is one tough, but tender brother: Sage.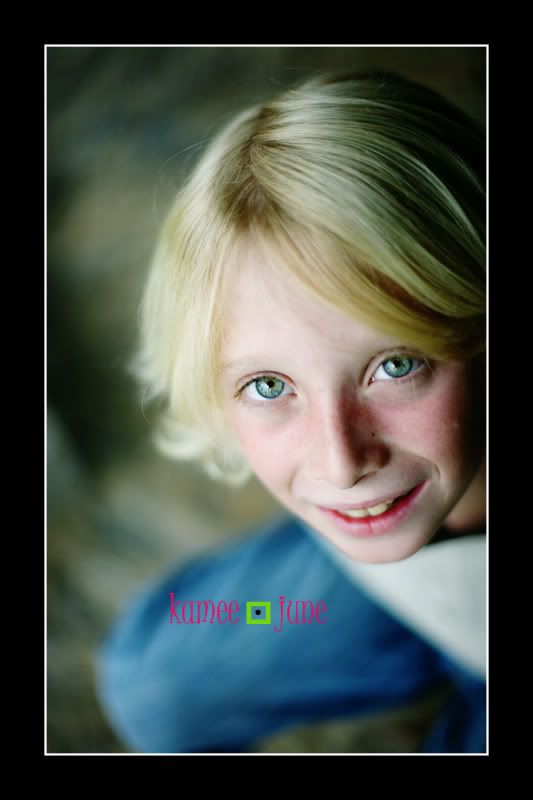 He is a soccer star and is headed to London for a huge game with his cousin this month. I am so excited for him and his up-and-coming trip.
He is a star on the field and in this family too; he is really good to his sisters. I love seeing brothers who take care of their sisters and look out for them. It is sweet, and good, and nice.
Sage. Doesn't that sound like the name of a rockstar athelete? Doesn't this face look like it will be on soccer posters all over the world some day? ;) He also has really, really cool hair.
Speaking of great names. I think I found one of my favorites: Rio. Seriously. Could there be a more outstanding name? Larkin might not have been Larkin had I met Rio 9 weeks earlier.

Rio is heading into the years when kids believe they know more than their parents. ;) She too is a soccer star and is super talented on the field. She loves music (Oh, yeah Rio and Sage, it's Let it Rock, by Kevin Rudolf. I thought of it two seconds after I got in my car. Download it for sure. ;)) and has a crush on Edward, the vampire, like most girls (and some grown-ups even) her age.
I really liked talking to her about her life: boys, soccer, itunes, friends, movies, braces...you know all the things 12 year olds are consumed by.
Load the shot-gun, Guy. No boy, or vampire, for that matter is going to be able to stay far away from this beauty. ;)
I loved how good they were to each other while I shot these. They laughed and played, held hands and hugged. It was really neat to see siblings interact this way. They got frustrated with each other too, but that comes with the nature of being related and living together. ;)
I loved this one:
Guy and Laura are exceptionally gifted people. Laura, like I said earlier is a very talented decorator. Her home was absolutely phenominal. She has an eye for color and texture that is remarkable. Guy, knows his brick. Together they are a hot team. Figuratively and literally. ;)
Laura didn't want any pictures of herself alone. I couldn't help sneaking one though. She was so personable, I liked her instantly and could have stayed and chatted the evening away talking about colors, fabrics, and decorations while sitting in their killer hot tub.
Isn't she pretty?
These two are great parents and I heard them take on several of the kid squabbles with humor and personality. I found that refreshing. Guy and Laura, you might not feel it now, but your kids are truly grateful for you. They are also very lucky to have your influence in their lives.
A few choices for the wall and the Christmas card. ;)
Everyone together:
Love all the peronalities in this one:

Guy, Laura, Rio, Sage, and Sadie- Thanks for all the laughs and fun. You guys are GREAT! Your home is lovely but the people who inhabit it are even lovelier. I am a huge fan of your entire family. Guy, may the bricks keep laying! Laura, may your fabrics be as gorgeous as you! Rio, may you continue to dance to your ipod and your own interior music (p.s. listen to your parents...I know it is hard to believe but they understand you! ;). Sage, SCORREEEEE!!! Good luck on the field! May your room be filled with trophies. Sadie, May you always monkey around; it is your most endearing trait. May you all have a very happy and blessed holiday season. Thanks for welcoming me into your home and sharing some time with me! xoxo kamee june