I had idyllic dreams of Halloween this year: trips to the pumpkin patch, parties with friends, trick or treating with Big Brother and Little Sis in tow. I had plans. Good thing I am flexible.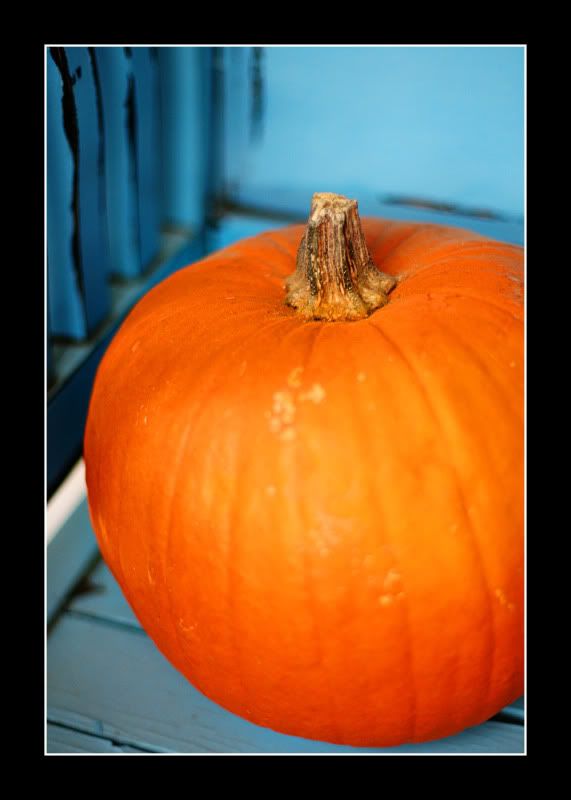 A few days before Halloween Gunnar started coughing. His cough is usually coupled with a runny nose which ultimately leads to ear infections. The morning of Hallow's Eve we found ourselves at the doctor's office waiting for a perscription. My sweet little boy who was so excited about Halloween this year came down with a gnarly chest cold and double ear infections. Halloween for him was canceled. We got his perscription and headed home. I knew he wasn't fooling around when we got home and all he wanted to do was lay around and be still.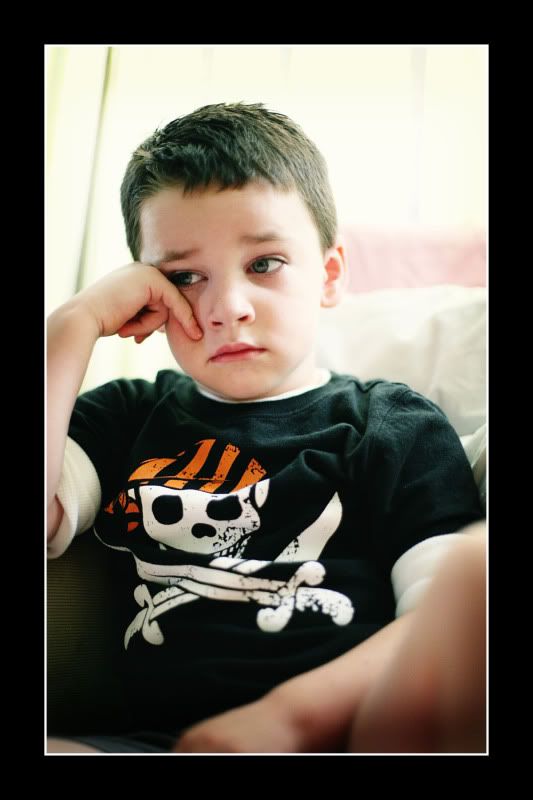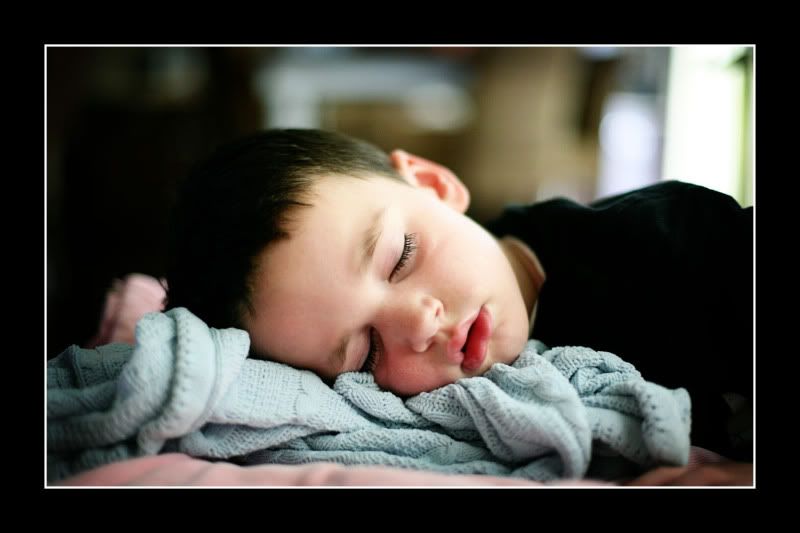 I knew he was really, really sick when he wanted nothing to do with his costume or his treat bucket.
The treaters started coming and the first dose of meds kicked in. He wanted to get into his pirate suit and "just be at the door." He loved seeing all the kids come and get their treats.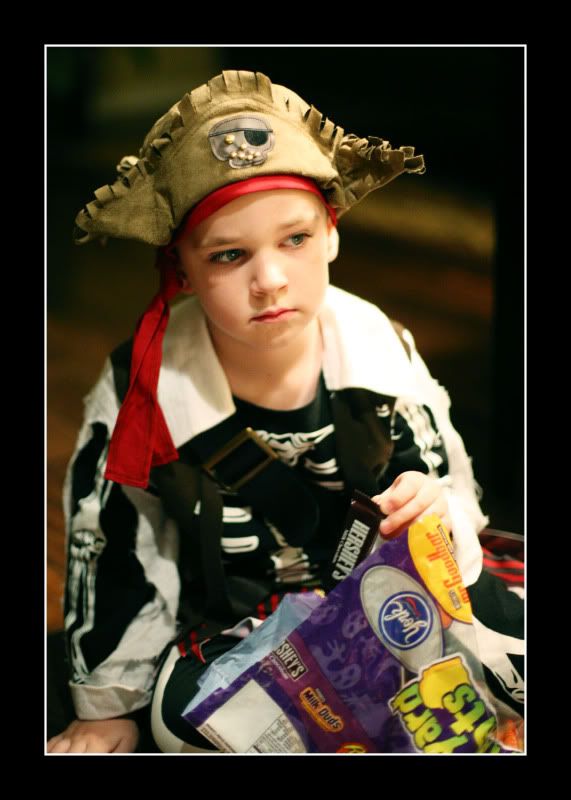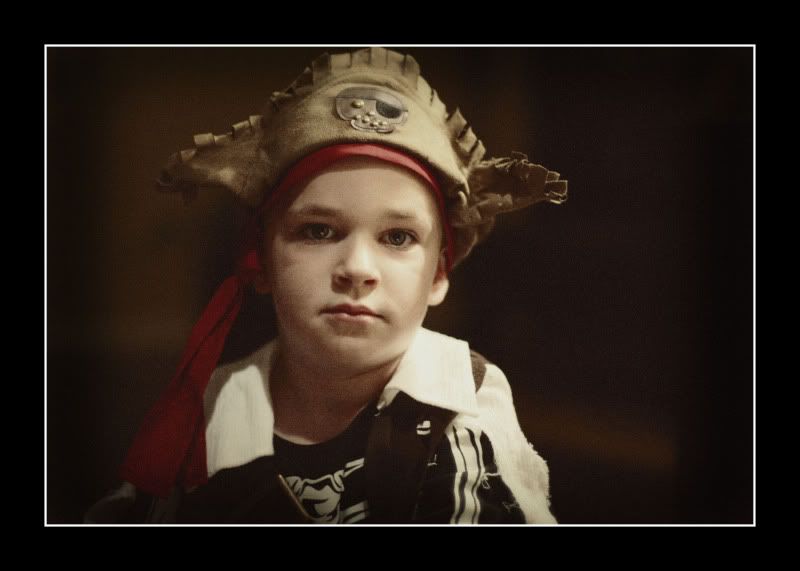 I knew he was sick and the best thing for him was rest, but when he looked at me with swollen eyes and asked if he could "twick or tweet" at a few houses, I acquiesced and he and I set off for a small Halloween adventure.
Bobby came too.
It was just he and I. I can still hear the sound of his sweet, croaky voice telling me scary stories as we walked the block and knocked on doors. I will never forget his small hand in mine as we made our through the neighborhood. He loved it. I did too. He pushed on and gave a good effort but by the end of the block said, "I need to go home Mom; I'm sick." Before heading back he wanted just one more door...(at all the doors that had flyers hanging on them Gunnar would hand the homeowner the flyer before asking for a treat. It was sweet.)
I carried my little pirate home on my back where we rummaged through his booty while listening to a screaming banchee (Larkin was a Halloween hater this year; she cried. Per usual.).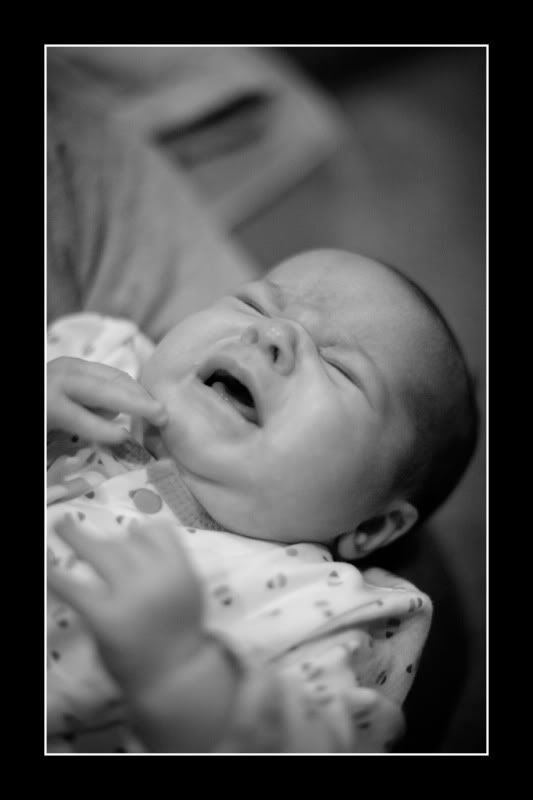 I didn't make it to the patch or to all the parties, but I did make it out with my son for a few moments of trick or treating on a crisp fall night. Gunnar, I love the enthusiasm you have for this life. I appreciate all the interest you take in everything you experience. Your curiosity and amazement inspire me to stop and enjoy the smallest of things. Thank you for all the joy you bring.
Even though Halloween this year was a bit scary with spooky germs and baby screams we were together as a family, and that's what matters.
Larkin didn't make it out at all on Halloween, but she did have a really fantastic costume handcrafted by my mom, who is here staying with us for a while.
We did make it to one Halloween party, hosted by my girlfriend April. It was so fun and great to be out of the house. I was hoping Larkee would prove me a liar, but she ended up crying at the end of the party. April took her from me for a while and got her to sleep. That reprieve was just what I needed; thanks Aps.
Her bow was almost as big as her head. Maybe she was crying because of it. ;) (That actually was one of the first things to go when she started to be fussy...)
But can you get over this tutu? Seriously. So cute!!
It is a bit late, but I hope everyone had a great holiday with family and friends as you celebrated shivers and chills on Hallow's Eve.
Happy Belated Halloween!!