Happy Valentine's Everyone!!!
Today the Valentine Fairy, Love Bunny, Cupid Claus, whatever you want to call the vixen that brings treats on Valentine's brought Gunnie some fun pirate gear! Although it appears to be Halloween, this really is a love bug dressed as Captain Hook.
I, I mean the Love Genie, laid his treats out this morning before he got up. I wanted to make him pink pancakes, or red waffles, but he kept telling me, "No Thanks. Nunnie a busy Mom." Well of course after seeing his new loot, who would have time for such novelties.
Can you guess what he is saying here? ;)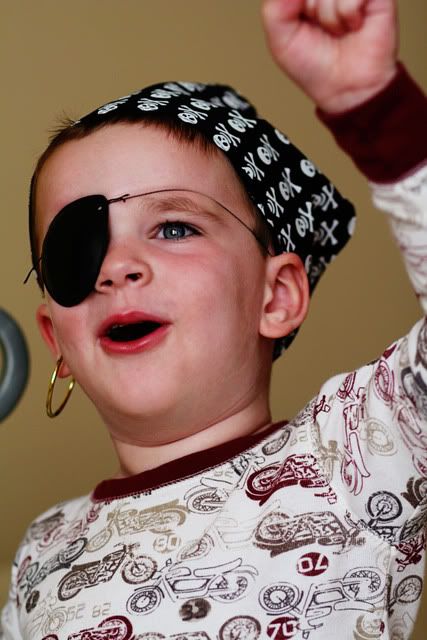 He wanted to wear his new duds in the shower and to his Valentine party at school. (No naked pirate pictures, sorry.) I convinced the swash-buckler to keep them in the car. I am sure he will wear them to the bank and out for errands later. The motorcycle jammies add just a touch more intimidation to the whole get-up don't you think? ;)
"Umm, Mother, this really isn't a true eye patch, but rather a facsimile of what a historical pirate would have worn. As you can clearly observe, my eye, beneath the patch, is completely sane and whole."
Thanks son.
The hook on a bed of hearts; he took it off for two seconds to see what was inside his treasure chest. (Tooth decay. That's what was inside his chest.)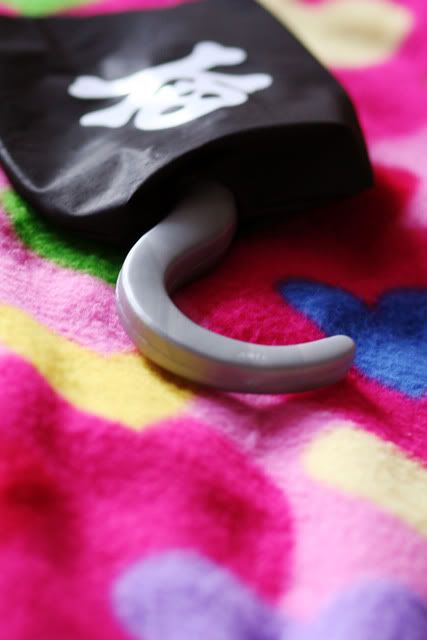 Gunnar- Happy Valentine's Day! You have brought so much love to our home the last 2.5 years. Thanks for all the joy and happiness you add to my day.
Jaren- You make every day feel like Valentine's. Thanks for my fun presents! ;) I am excited for our date tonight!! Yahooo!! I might even do my hair.
Happy V-day everyone! Hope it is filled with love and chocolates! xoxo Kam