A while ago I heard an analogy about death that struck a cord; it was something like this, "Every day we dodge invisible bullets. They are all around us, we just happen, by chance, to avoid them, but sometimes they hit and fatally take those who are closest to us."
It has almost been a month since Wardo took one of those invisible bullets, but my heart still feels heavy. I have been meaning to write something as a tribute to my friend, but wasn't sure what to say that could stand next to his courageous and noteworthy life. How can I share anything that would compare to the honors, medals, and accolades he received after 20 years as a fighter pilot in the Air Force? How could I relay anything that would even remotely convey his conviction of spirit, his integrity of character, his love of family, his devotion of faith, his passion of life? How will his family ever really know what he, what all of them really, truly have meant to me and my life?

I will try and tell them.
This was taken at my 20th birthday party. Those aren't Ward's real teeth...he was full of jokes!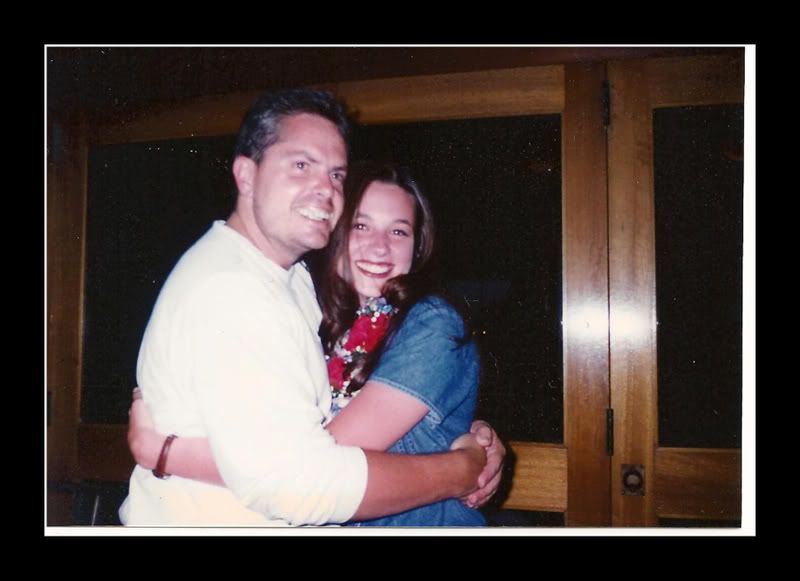 My dad was in the Air Force for 25 years. We moved every two to three years. It was hard and I had a difficult time with all the shuffling. Even though the changes were challanging, there was still one major perk to all of our moves: we traveled, a lot. Not many kids can say they graduated from high school in Cambridge, England; I did. I have seen so much of the world, and for that I am grateful.
While in England we lived three houses down the street from a very special family. I was 16 years old and although my parents have always been supportive, loving, kind, nurturing, understanding, and giving people it was sometimes easier for me to listen to the counsel of other parents outside my situation. I found myself magnetized to Ward and Dana Severts, a young and hip couple with three small boys, Cameron, Grant, and Gunnar (Yes, this is our Gunnar's namesake). Members of our same faith, we would visit every Sunday. Soon I was invited to babysit, then I invited myself over almost every day after school to check in on the boys and dump my drama on Dana. (Looking back on it now I realize how much patience she had with me to listen and share all of her time. I am sure there were moments when she would see me coming up the walk and take a deep breath before she answered the door. I was the neighbor that never knew when to go home, but always felt like I was at home with them.) Dana was a part of our prom dress shopping (she didn't have any girls yet and used to get so excited about anything girlie); the Severts came to the high school games when I danced at the half-time shows (they even allowed me to practice for try outs in their front room); Dana and Ward were a part of the congregation taking pictures before I headed to prom; their boys were some of my first passengers after I got my license; they lamented when my heart was broken (Ward always played the tough, "I'll beat the kid up" role, "How could he do this to you? He's crazy? A total fool. Tell me where he lives. Want me to drop a bomb on him when I am out next?"; They attended my plays and awards ceremonies, the whole Severts family was at my graduation from high school; I spent a month with them during my summer break during college when they lived in Hawaii; they were a part of my farewell for my mission and my homecoming; they were in touch when I got married; made connections when we had our Gunnar; I even had a call from Wardo two weeks before he passed away just, "to check in".
Wardo's family. They are grown now, but they will always be this size in my head and memories.
His sweet, sweet wife, Dana.
Cameron, the eldest, who was never up for my antics. :)
Grant, me, Gunnar(The first Gunnar in my life. I have a special affinity for him. He was two when we met, but I fell in love instantly. ;)), and Cameron.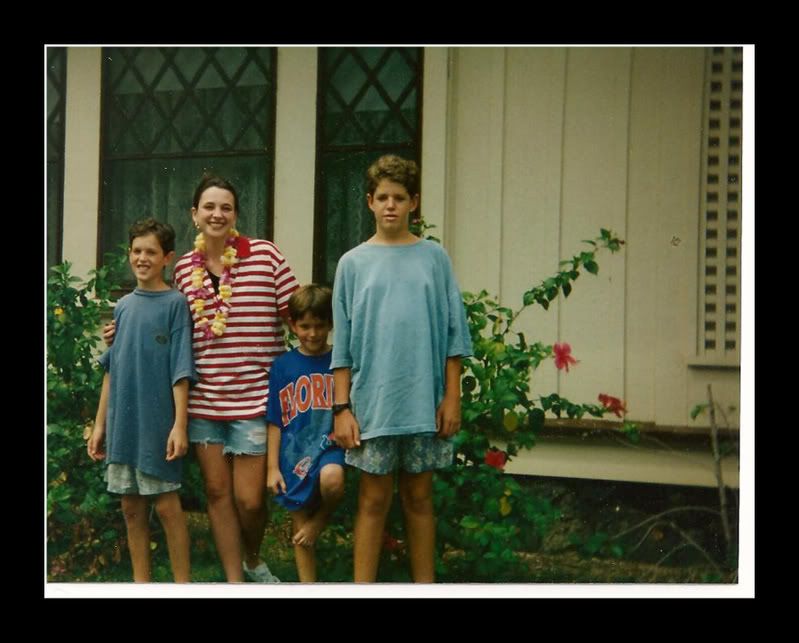 Annika who is now 15. (We shared a room when I was visiting them in Hawaii. Now that I have a child who naps I feel that I made a mistake sneaking into Annika's room during nap time; I think I woke her up a couple of times and cut the nap Dana had so planned on short. So sorry, Dana. I know understand that sacred time...)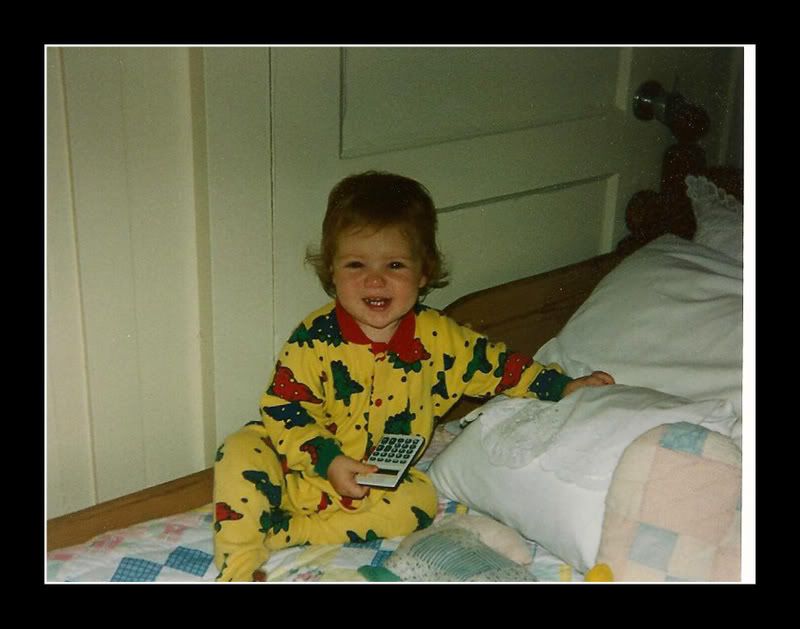 I love this family. They are so much a part of my heart that I would consider them just as much 'my people' as my own flesh and blood.
Wardo knew no strangers. We met these two tourists at Pearl Harbor. He overheard them talking in Spanish and immediatly chimed in (he served a mission for the Church of Jesus Christ of Latter Day Saints, in Argentina.), he almost invited them to dinner, but then was gently reminded of other plans. ;)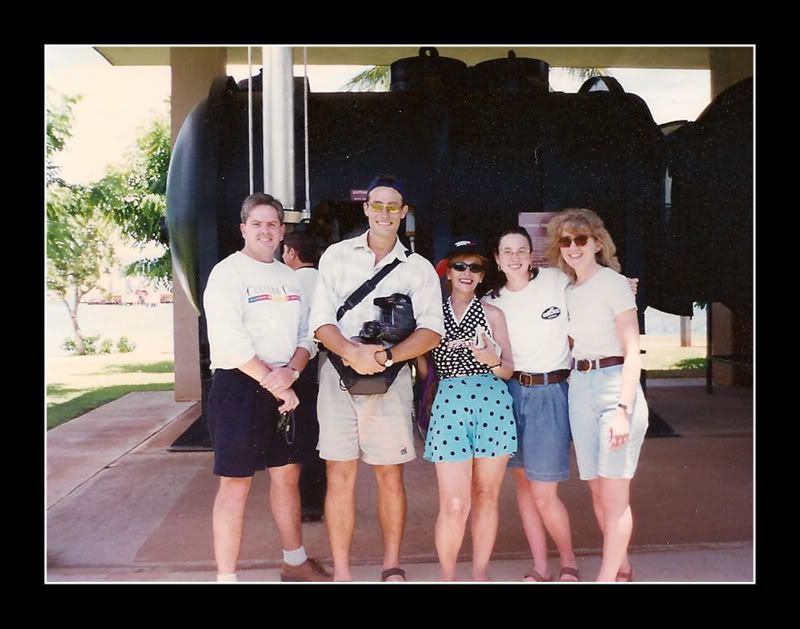 It is devastating when your people are struck by invisible bullets.
After retiring from the Air Force as a Lt. Col. (where he fought bravely for our country in Operation Desert Shield, Operation Desert Storm, Operation Provide Comfort, Operation Northern Watch, Operation Southern Watch, Operation Allied Force, Operation Enduring Freedom, and Operation Iraqi Freedom. I recently read in an article posted about him that shared, "Wardo had more combat experience than any other current member of the Air Force." He was something. Really something.) he worked for fed ex. He had a layover in Tennesse and thought he would do some joy riding in a Cessna 152 before catching his hop home to his family. The irony of his death is something I would teach my students about in a geniusly well written novel. He was a fighter pilot. He dodged real bullets in real combat. A leisure solo flight, his fatal bullet? I still shake my head in disbelief. Ward sent out a "mayday", his final communication, and crashed shortly after. Another irony? His father died the same way. I remember Ward telling me stories about his father's death; I always felt so sad for him, but thought, at least he was doing what he loved. I guess we could say the same for Ward. He loved to fly and he was good at it.
Ward had a funeral service fitting of a true hero, complete with an F-15 flyby in the missing man formation, an honor completely fitting a man of courage, bravery, distinction, devotion, loyalty, and love.
Out to dinner on Oahu. Ward's got his teeth in again. I think he ordered his meal with them in. It was hard for us to not laugh.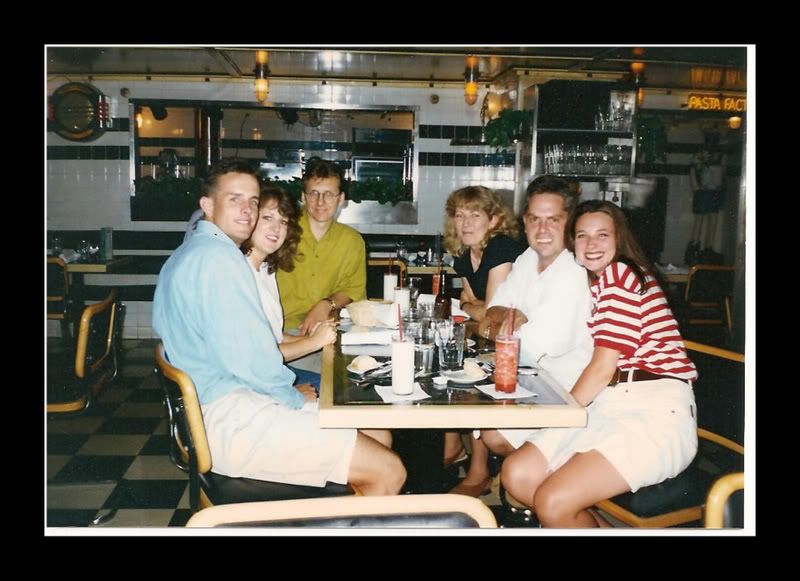 My heart still aches. I can't imagine the void Dana, her boys, and Annika feel. I am overwhelmed with emotions, some sad but most are powerful thoughts about the impact that we can have on each other. Ward was a very dear friend to me and my family. He was a good and honest man; he fought bravely for our country and the rights and freedoms we all enjoy today; he loved God, his wife, and his children more than anything else.
I remember him telling me something when we were out joy riding on his motorcycle in Hawaii, "I feel most myself when I am with my wife, my children, and when I am flying." This brings me some comfort when I contemplate his last moments.
Ward's bike. He liked speed, on the ground and in the air.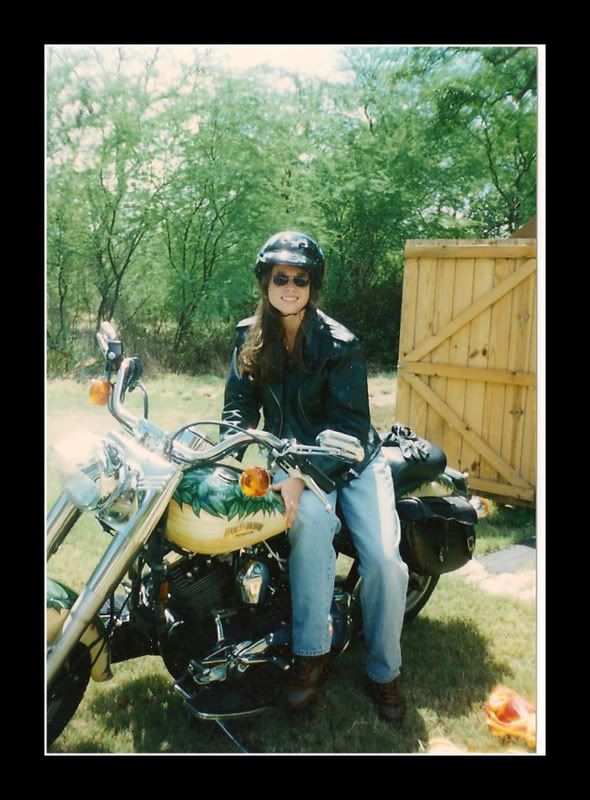 The world really was a better place because of his influence. I feel so blessed to have had him as a part of the tapestry of life. I believe in Heaven; I believe he is there cracking jokes, catching the waves, joy riding, and sending silent messages of love and comfort to those he left behind in this mortal existance.
This was the spirit he always emminated. Ward=Life!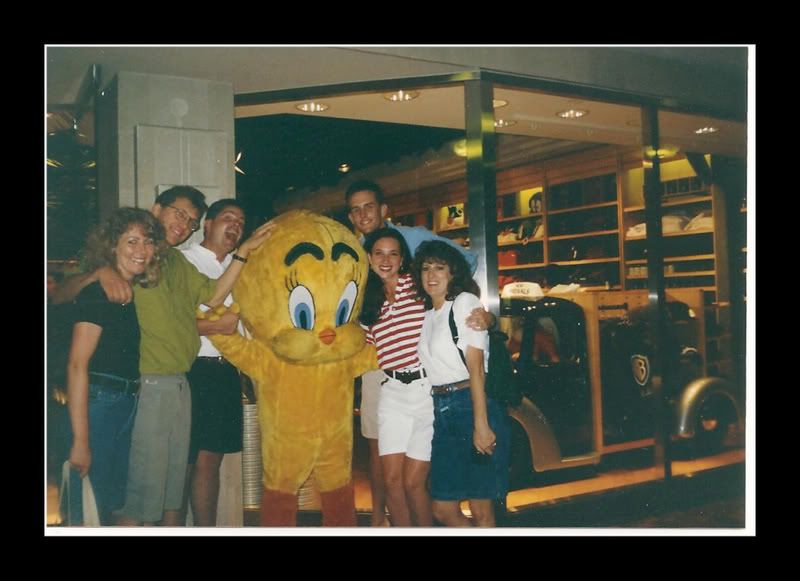 Ward- I will miss your jokes, laughter, and the love and interest you always showed me and my family. May your legacy live on through our Gunnar as well as it will through your Gunnar and your other children.
One of my favorite authors, Richard Bach, wrote
"Don't be dismayed at goodbyes.
A farewell is necessary to meet again.
And meeting again after moments or lifetimes
is certain for those who are friends."
'Til we meet again Wardo- the other Kam