I have heard so many women talk about how they, "loved being pregnant" were, "comfortable and content the entire time" felt, "full of life and vibrancy" and looked forward to each stage with, "enthusiasm and vigor". I am not this woman, but I admire and revere the ones who are.
Last week I had the opportunity to shoot (I will never get over this pun) a stunningly beautiful, comfortable, content, full-of-life, vibrancy, enthusiasm, and vigor expectant mother. I enjoyed myself so much during the shoot that I completely forgot my feet were six sizes too big, my ankles completely unrecognizable, and my fingers the size of Vienna sausages. I told you I am not that woman, but she is.

Liz and Ian are expecting their first baby, a baby girl. She is so lucky to be coming to a home so full of laughter and love.
There is nothing like expecting "the first". I remember reading all the books, following all the growth charts, going to all the classes, knowing every step of my un-born's development. It has been different with the second; I know she is coming in 4 weeks, and I know she has a great room. I am not really sure what she has developed; I hope everything. ;)
These two are so prepared for Baby Sophia.

Liz is a talented woman in many arenas. Her gifts are as numerous as her grace. I wasn't surprised when she told me she had made all the baby's bedding; it's lovely and perfectly designed. I think that is so special.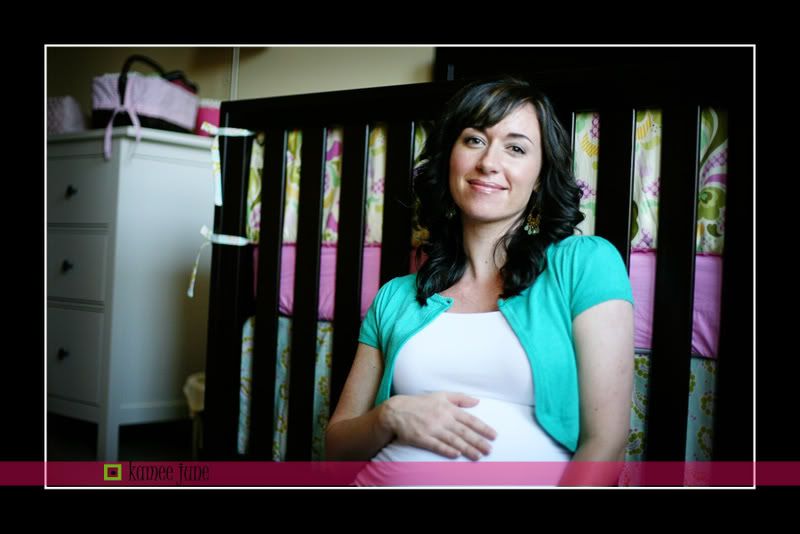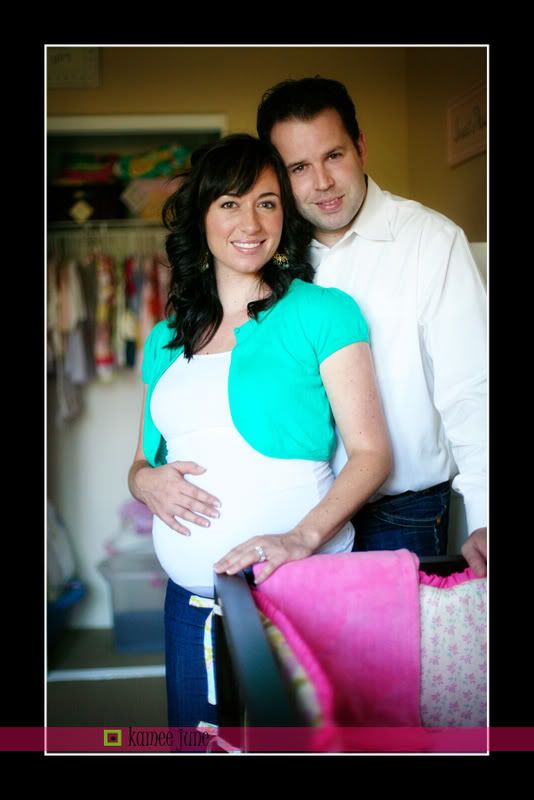 When I was proofing their pictures I felt myself grinning; my smiled stretched across my face. I loved seeing how their love translated to an immortalized photograph. I loved how the pictures reminded me of things we had talked about during our shoot. Ian is incredibly witty. I couldn't get over how quickly he would retort sometimes with something so hysterical. I wish now I could think of something concrete. All I know is that when he was in the room, both Liz and I were in stitches.

Liz is planning on using hypno-birthing as her technique (Another thing I admire, but feel is completely out of my arena.). I am always interested in women who have used it before or who are planning on applying its principles during the birthing process so I peppered Liz with questions connected to the method. Later on Ian said something to the effect that he wished the same people who created the hypno-birthing concept would do something similar for weight loss. It was good stuff; he is good stuff.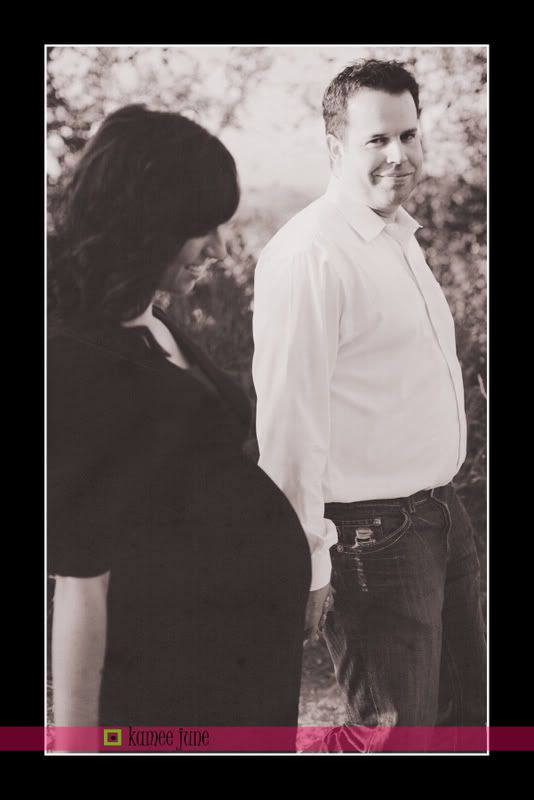 May the following put smiles on your faces like they do mine.
(Not so much about the baby, but I loved the moment and the smile on Liz's face.)
I lied when I said this baby is Liz and Ian's first. Their first "born" is Max, a turtle. They got him as a baby and will have him for the next "110 years", according to Ian. He will grow to be the size of a small ottoman someday. Doesn't that make you chuckle too? The thought of a turtle in the backyard? Another great laugh I got from Ian was his commentary on what Max has been enjoying as a snack lately... I will leave it up to your imaginations, but let's just say it started some interesting "potty" talk...
A few belly shots.

Baby Sophia has no hope; she will be prom queen and voted most beautiful for sure. Look at this gene pool...load the shotgun now Ian.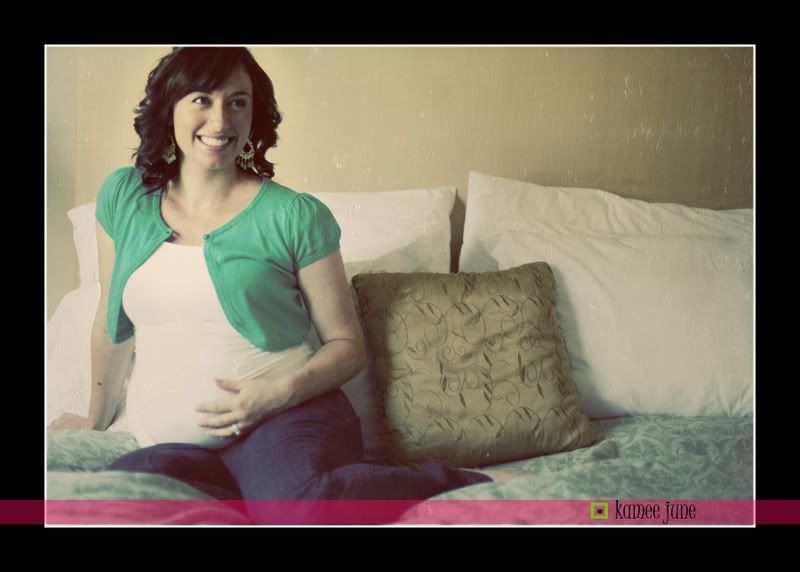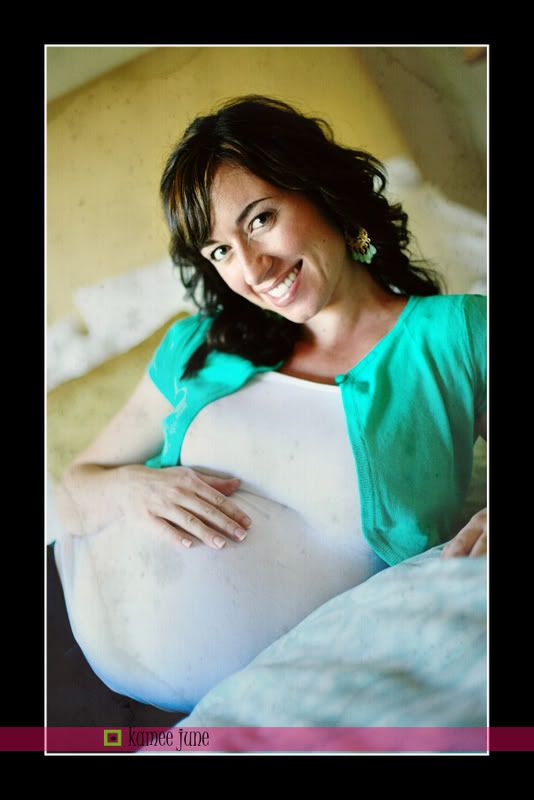 Liz and Ian- Get ready for the greatest change of your life. You are both accomplished individuals, but Sophia will be the start of a whole new level of accomplishment. She is lucky to have such compassionate and jovial parents. You are lucky to be welcoming a piece of Heaven into your home soon. I can't wait to meet her.
I thoroughly enjoyed our time together. I wanted it to stay light so we could keep shooting and laughing. May you enjoy your last few moments as a party of two. Thanks again for the time together- Kamee