Sit back and read a classic favorite of mine and possibly yours.

Old Shoe,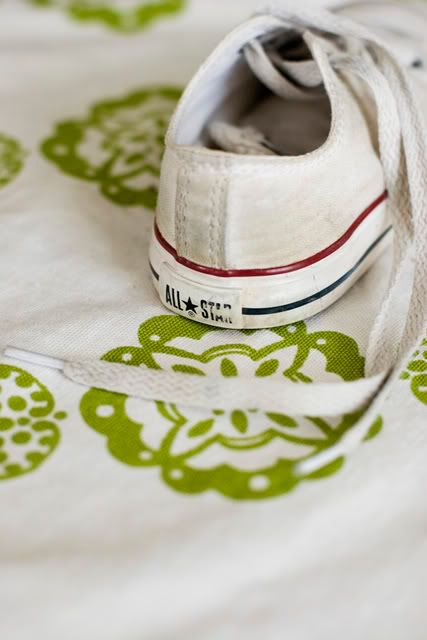 New Shoe.




White Shoe,




Gray Shoe.




One Shoe,




Two Shoes.




The classic story ends there. (Plus weren't you tired of looking at the same pictures? ;))Enter a head shaking, can't-believe-a-parent didn't do a better job noticing story...

If you were thinking this was going to be an endearing post commenting on how quickly my son is growing and how I used his shoes as evidence to prove his growth rate, sorry, you're wrong. This post, embarrassingly enough, is dedicated to those parents who, like Jaren and myself, have not remained as observant as we promised on the day of Gunnar's birth. This tale shares one of those moments all parents have when they come to a realization that they have neglected the obvious needs of their children.

Friday night we headed to Disneyland. We got all geared-up, packed our packs, and put on our good "walking" shoes. Gunnar didn't mention a thing as I put his shoes on. He just kept saying, "So excited to go Mom. So excited." We got there, and like most kids do when they greet the entrance of Disneyland, he took off, smoke trailing behind him; he really was "so excited". Not too long into our stay I noticed he was limping around, like he had hurt himself. I asked him what had happened; he said "nufing, Mom". Soon, he kept telling me, "Nunnie need a hug, Mom." I would pick him up, love him, then put him down, but he would throw his arms up in the air and want to be held. Those "hugs" turned into me carrying him around extended amounts of time. When I did put him down I noticed a funny gimp in his gait, and I suddenly got wise. His shoes were hurting. I asked again what was wrong and if his shoes hurt. He kept telling me that he was fine. I know what it is like to have a pair of shoes that hurt. I also know that sometimes they are just too cute and too fun- so what if they are a size too small, right? I think Gunnar felt the same way. He was having too much fun to let cramped feet get in the way. It's funny, in a way. I have been noticing each morning during bath how much bigger his feet have grown. Did I think that he would perhaps be needing new shoes? Nope. He didn't say a thing to me when I put his shoes on each day. How was I supposed to know he needed new ones? Communication, Gunnar. You have to tell me these things; I will never turn down a trip to go shoe shopping. I am usually really good at noticing when you need a new wardrobe, but some how I missed this one. Sorry, Buddy.

By the end of the night, Jaren or I had carried him 85% of the time. That's a whole lot of pounds to carry. (My arms should be more cut for the amount of time I carry that 41 pound "toddler" around. ) We decided it must be his shoes and that Saturday we would take him for a little shopping.

Continuing with the story.

Small Shoe, Big Shoe.




We measured his foot the next day.

He was wearing a 7.5 at Disneyland. His current shoe size? 10.5. Yep. That's a whole 3 sizes too small. Nobody report us. We love our son and are conscientious of his growth. How did we let this happen? ;) Gunnar never seemed to mind though, and he never really complained. Trooper.

He lucked out too. He now owns 5 new pairs of shoes.

I hear foot binding is making a come back for small white males. ;)


New BIG boy shoe, Old SMALL boy shoe.




Can anyone else commiserate?