I love spring. It is one of my favorite times of the year. I especially love the re-birth on all the trees and in the earth, the balmy fragrances that fill the air, and the promise of summer on the horizon. I also really enjoy Easter, the holiday and its sentiments.

I had a shoot last week that personified spring and its youthful connotations. 
My new friend Amanda asked me if I would be willing to shoot pictures of all of the children in her moms group. I thought that would be a really cool opportunity and a fun chance to do something I had been thinking of for a while. I knew I wanted to incorporate the blue bench since it exudes spring, but I also wanted to include something that would keep the kids interested in the shoot.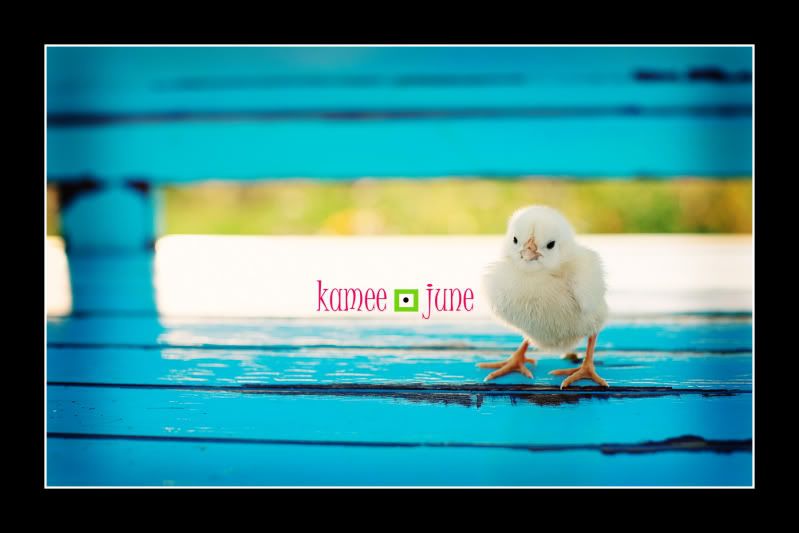 How can you go wrong with live animals? Especially ones that can be mauled, I mean, held and loved. ;)
My neighbors pointed me in the direction of a great hay and fee in the neighboring community and the rest is photo-shoot history. I loved meeting these children. Their spirits were spring. They hearts, sunshine. Their smiles, honeysuckles. Their laughter, night jasmine. 
Lena didn't say much except when her mom was close by. Then she was all smiles.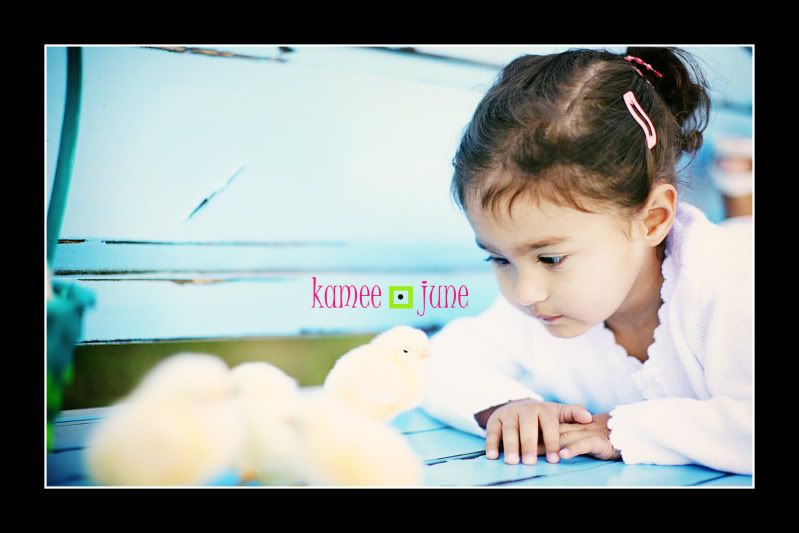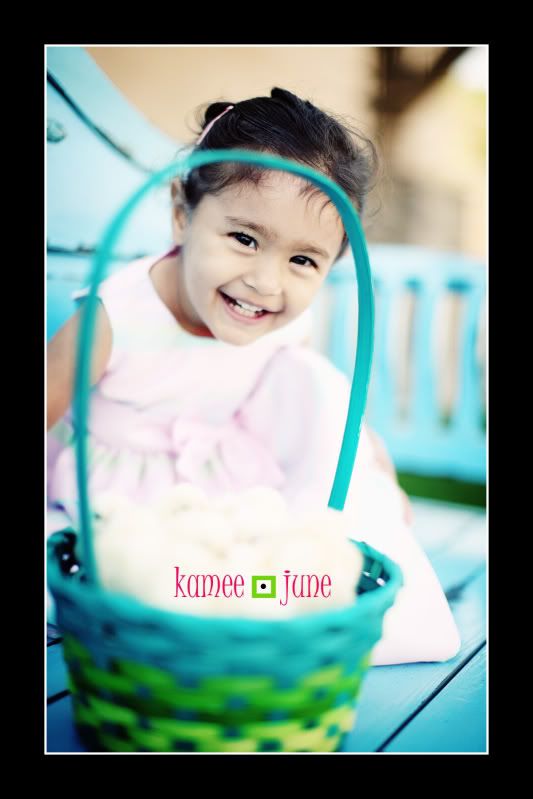 Lena is going to be a big sister soon. 
A chick and one still incubating: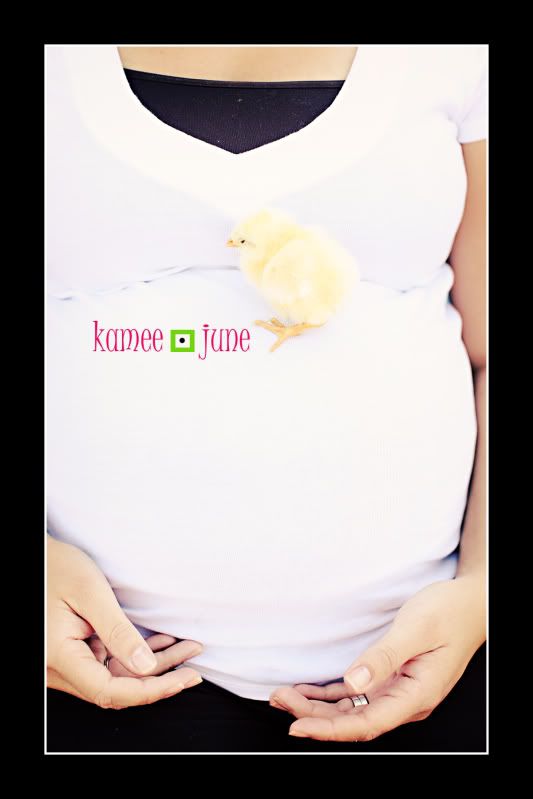 Allison, Logan, and Emma came in the perfect apparel! I loved their colors and their personalities.
Love this image. Would you believe I did nothing to those eyes in photoshop? True story. God photoshopped those babies!! Amazing, right?
I have seen those cheeks before; my baby has the same ones. ;) I have an affinity for chubby cheeked babies.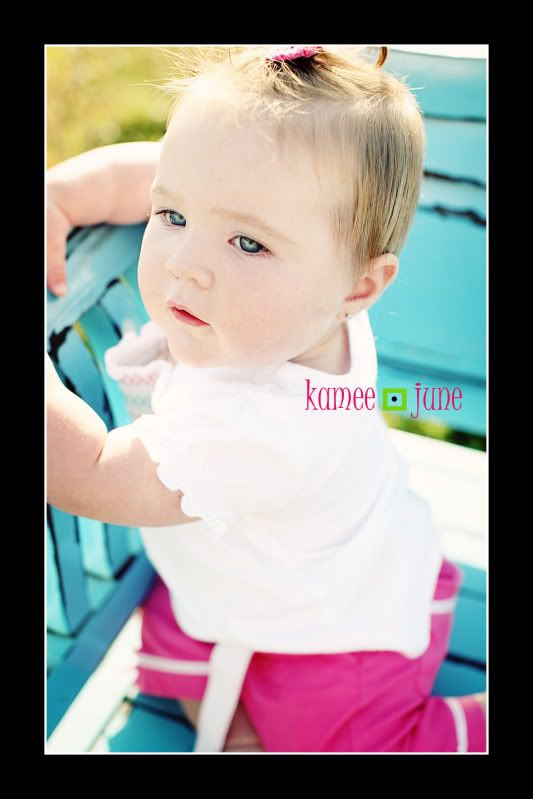 Brave Logan. ;)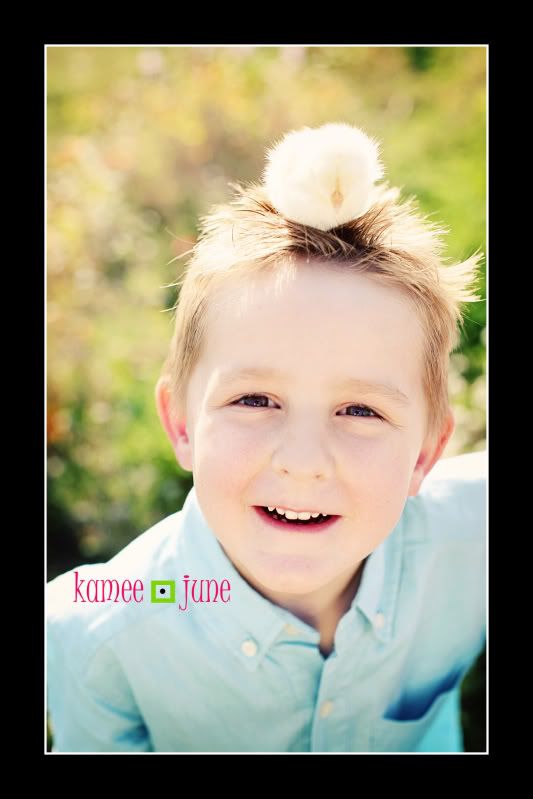 Mateo's turn came with some beautiful light. I don't think there could have been prettier light. Super symbolic of an Easter shoot. ;)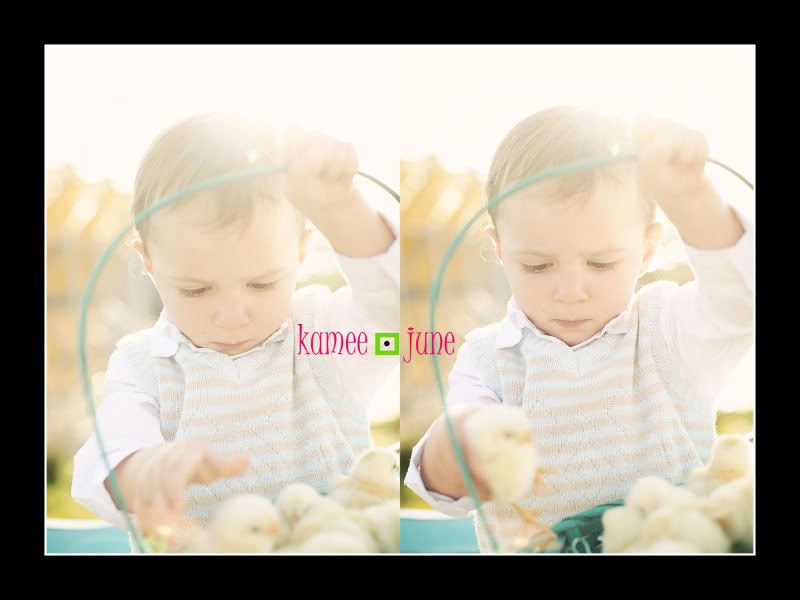 He was so pensive and interested in them; it was sweet to observe him.
Some really soft light: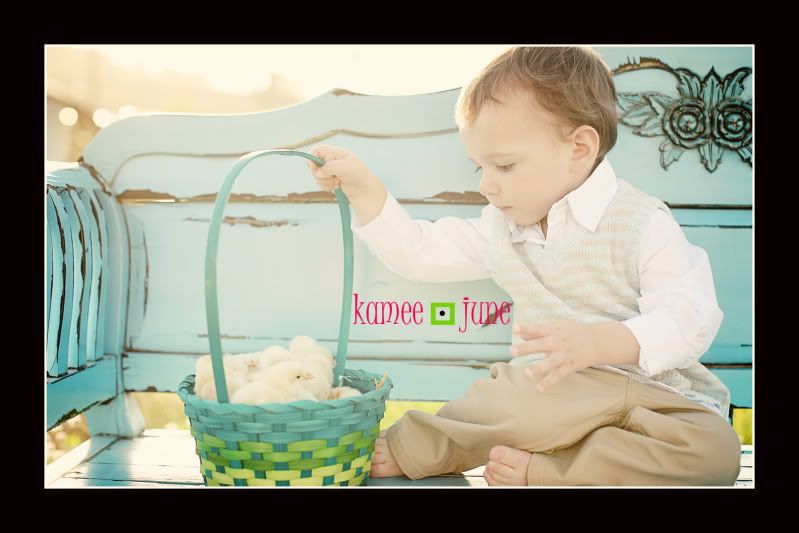 I thought this image was the perfect moment. Curious boy meets live chicks in a basket.
And loves every minute of it.
Baby Gianna wasn't so sure about those little creatures, but we managed to get a few snaps of some chicks with a 6 week old chick.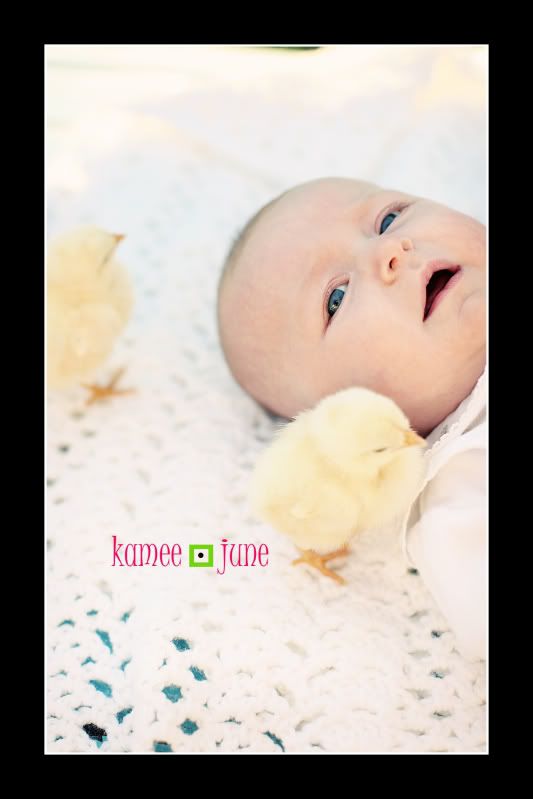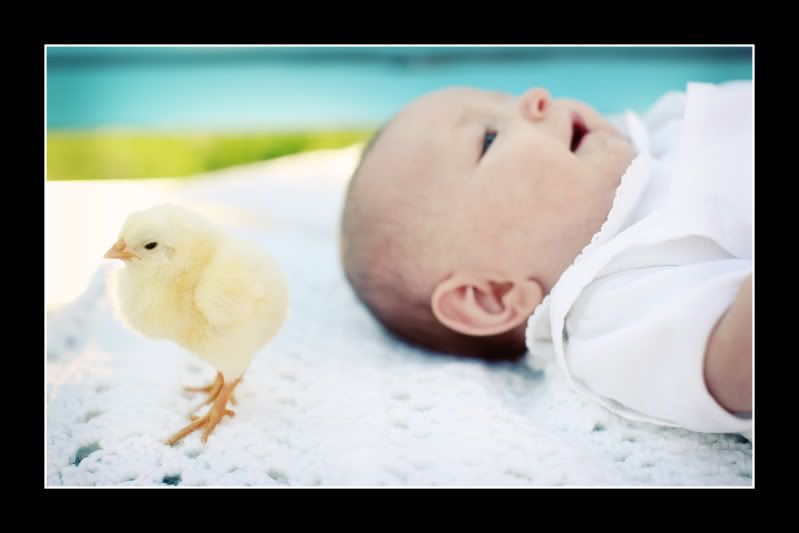 A very handsome face in some gorgeous light.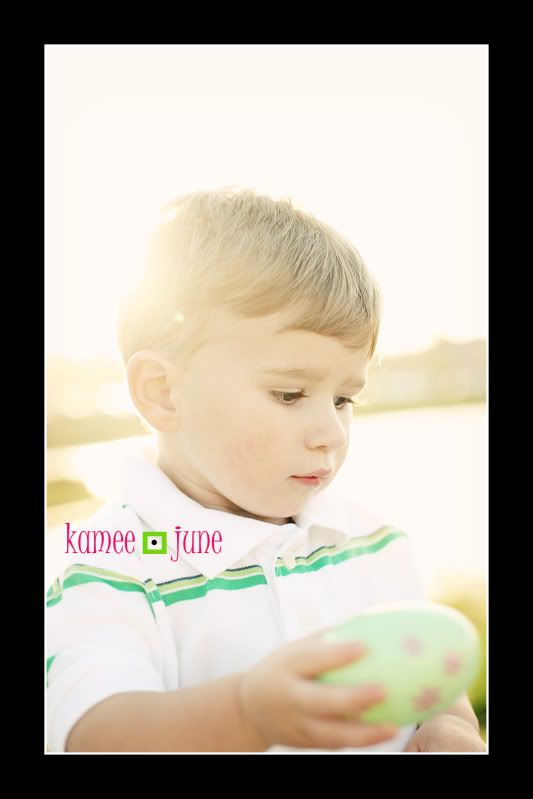 Matthew wasn't so sure of me, but his brother, Ryan, was an excellent conversationalist.
Loved this moment with the brothers: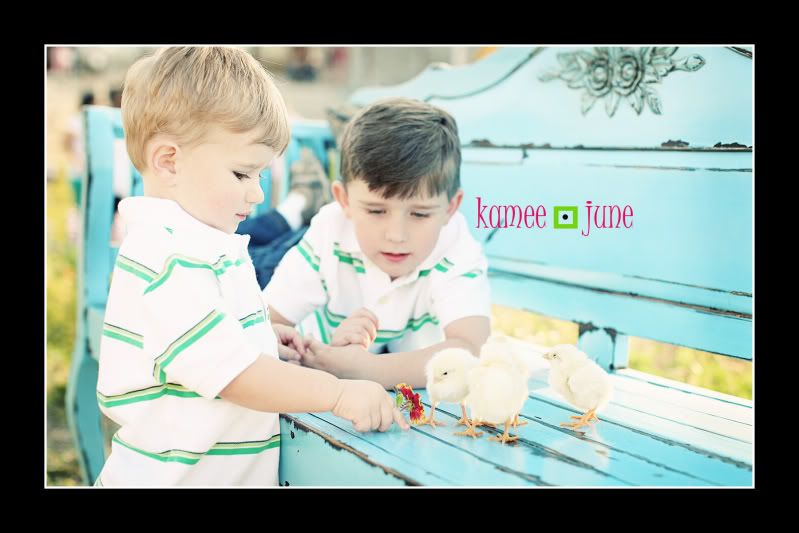 I have never seen a more well-behaved brother sister combo than Julio and Jessica. Such kind-hearted and mild-mannered kids.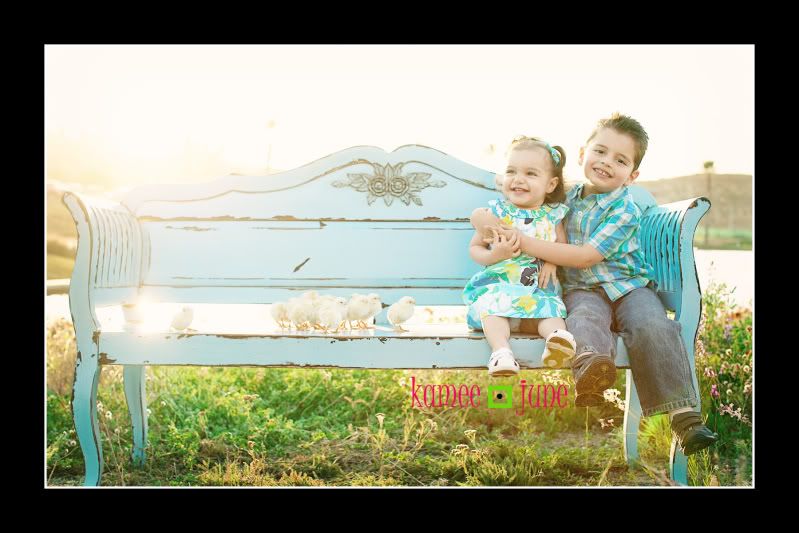 Julio kept saying, "CRAZY CHICKEN!", when the chicks tried climbing up his shirt. It was a crack-up...pun intended! ;)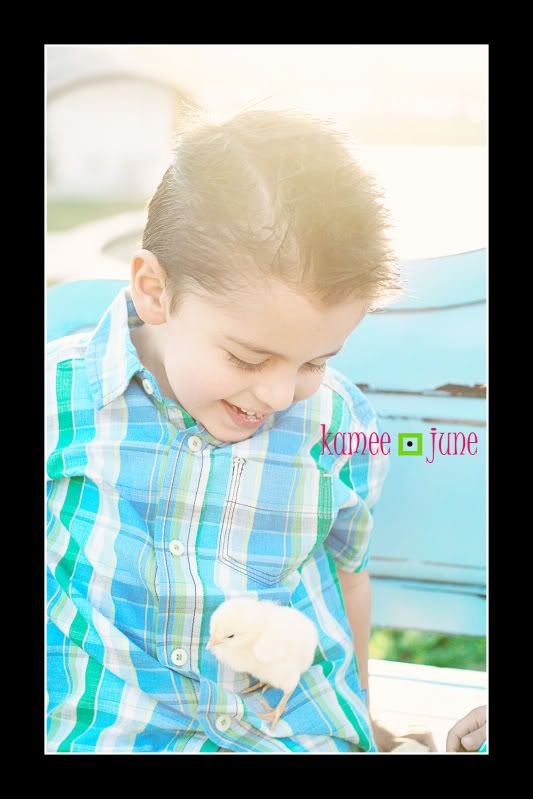 Sweet Jessica:
Speaking of crack-ups...this gal, Presley, was personality...plus!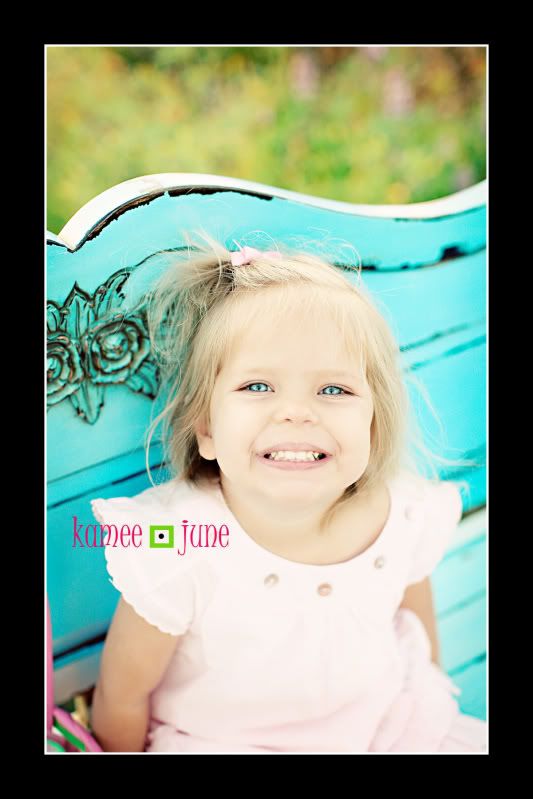 Dying over this expression: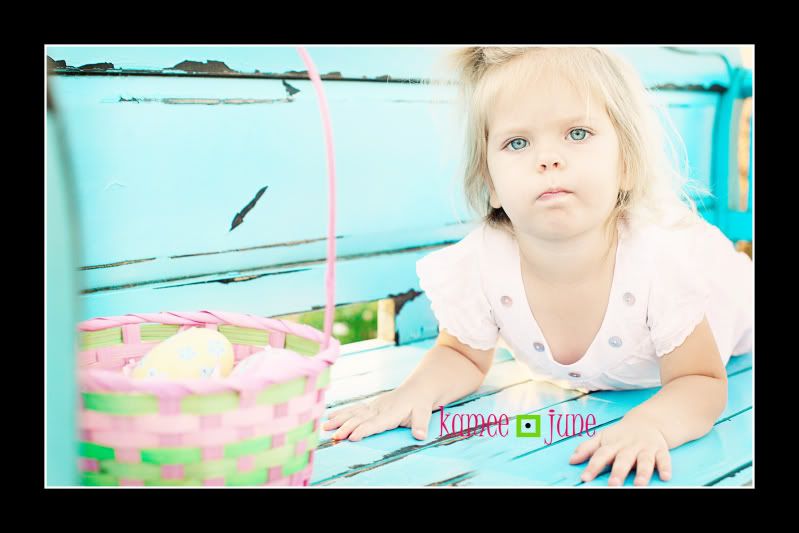 Going in for a kiss...
I have to say though that I think this shoot was made for Lola Jo:
She walked around on tippy-toes gathering chicks, putting them in her basket, counting their heads while sitting leisurely on the bench. It was idyllic; she was idyllic.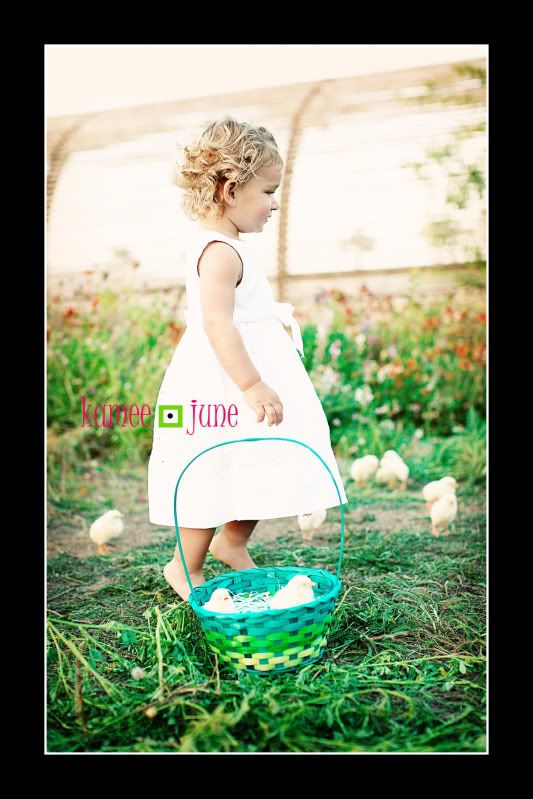 I really liked the story-telling aspect with this image:
Easton: darling name, darling boy.
I thought the conversation he was sparking here was sweet: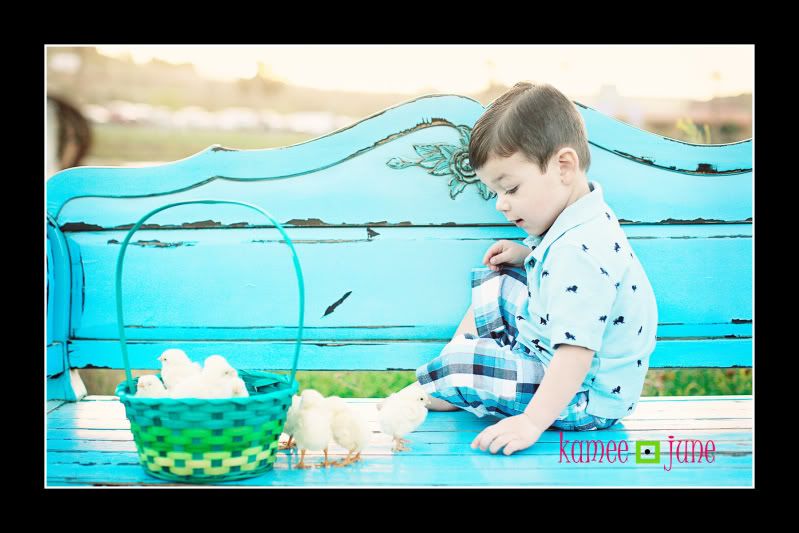 LOVE that smile: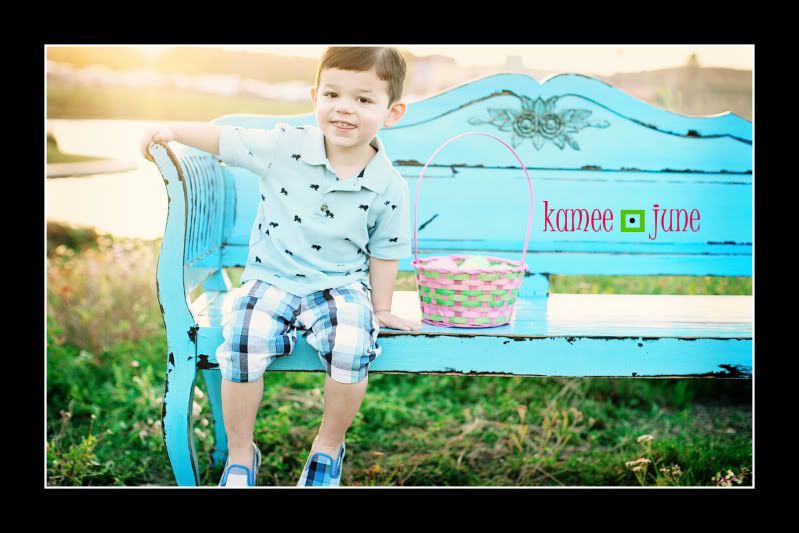 And some brothers and sisters that were so good to each other and the to the chicks. I was very impressed with how kind they were to one another and the baby birds. ;)
I really liked this moment: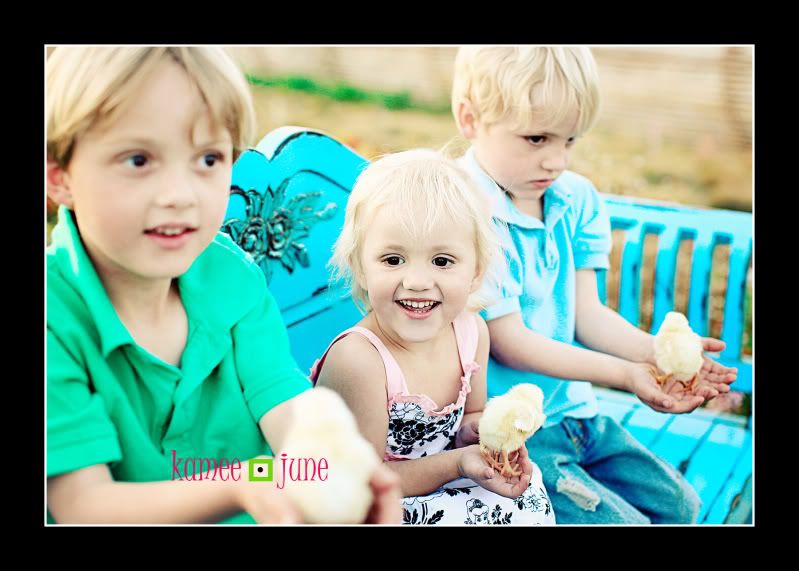 All these kids were such good listeners. That is so nice to see!!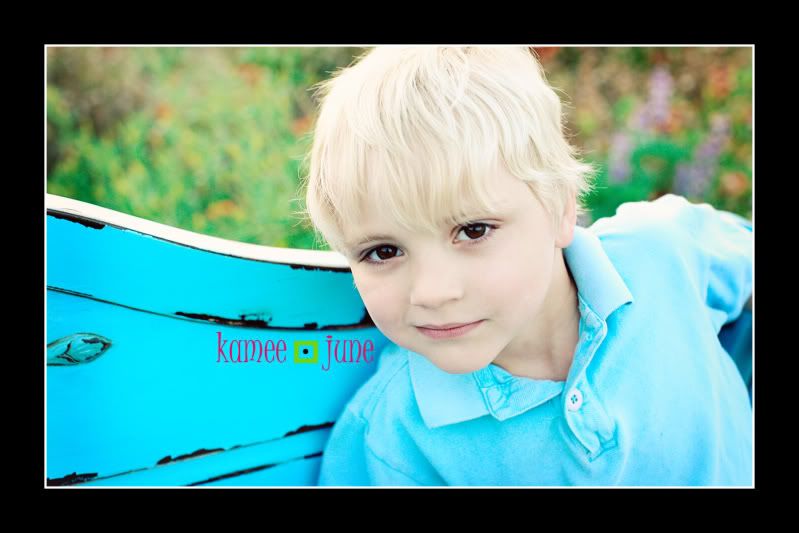 Once again, I liked the story telling aspect here:
LOVE THESE BOYS and THEIR MATCHING CLOTHES and THEIR MOTHER!! Cole, Caden, and Carson: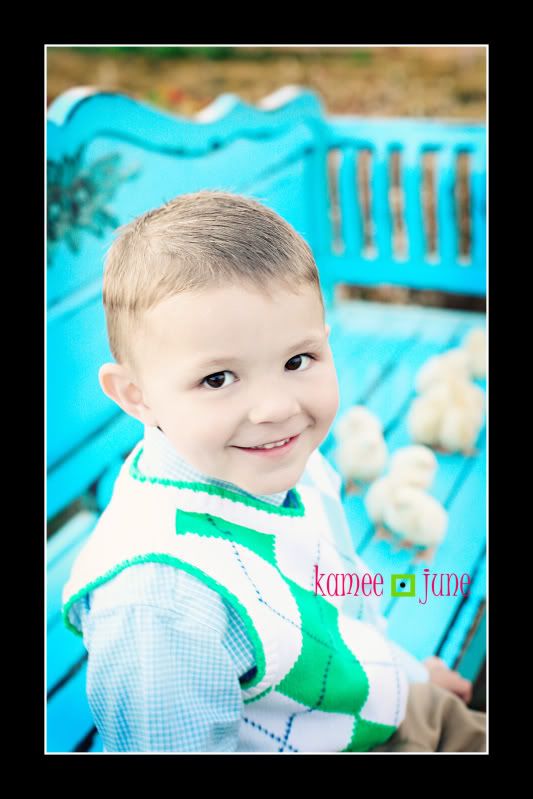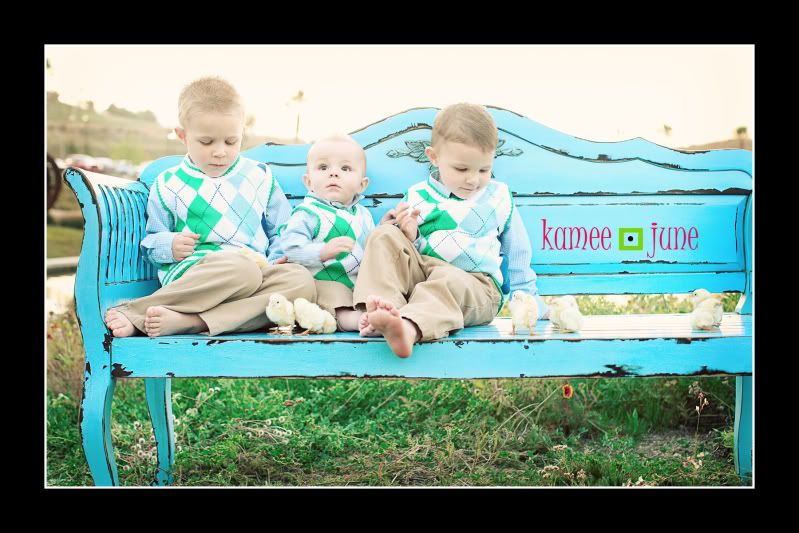 And another set of boys who have my heart, and who have one of the coolest moms EVER, Christian and Preston:
That chick got nice and cozy in there. He had a good thing going for a while.
Seriously. So mellow. All. The. Time.
Loved this one because it is the perfect reflection of both of their personalities:
Working with live animals and small children can prove to be quite hazardous. I now present to you the blooper reel: 
"I'm going to get you chicken..."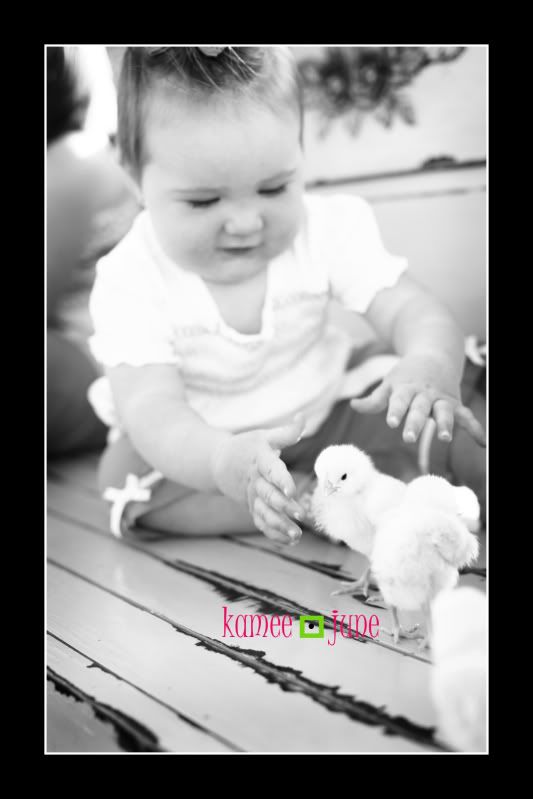 "I got you chicken..."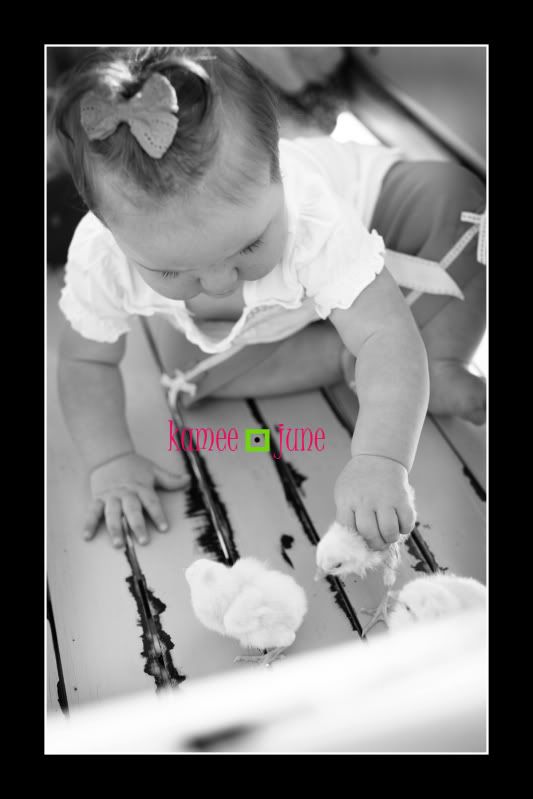 "Now, I am going to eat you...Alive..."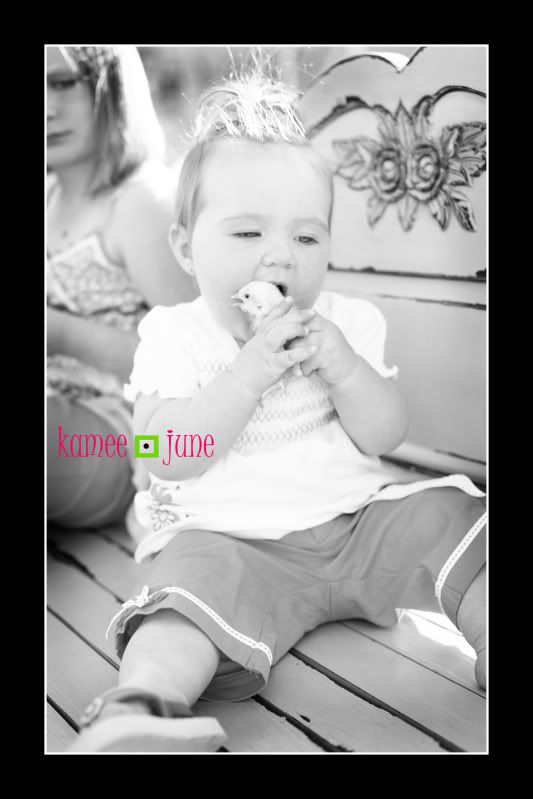 "There's nothing in my hands mom. What feathers are you talking about?"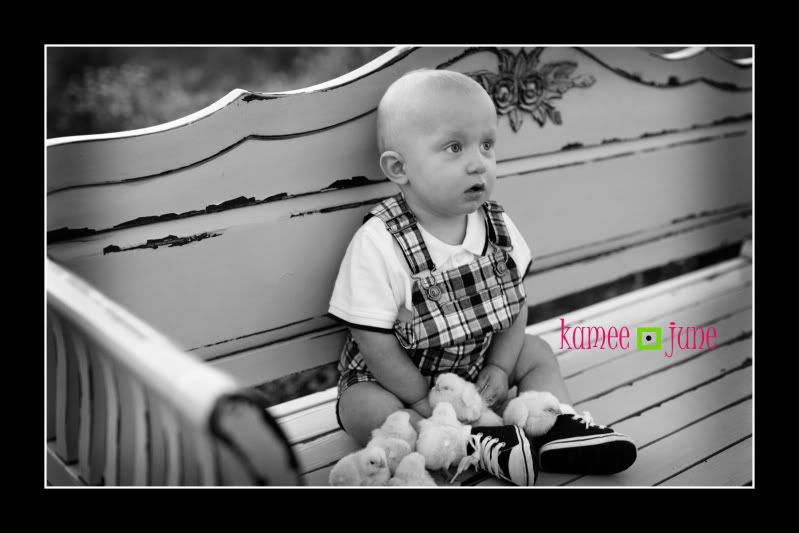 "Oh, you mean this chicken? The one I am holding on to by the wing. Yes, that one. I have him right here."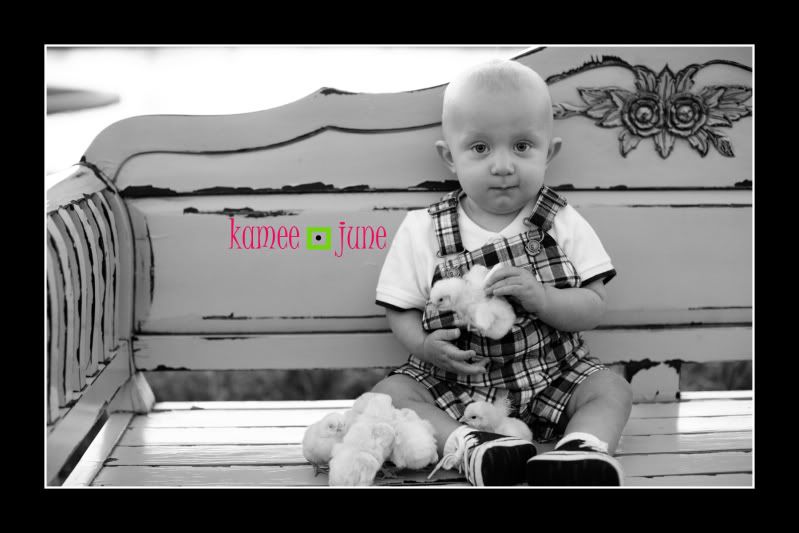 "If I close my eyes, maybe Brother won't see me and he will stop talking."
"Wonder what would happen if I turned this basket upside down?" (note the chick falling out of the frame...;))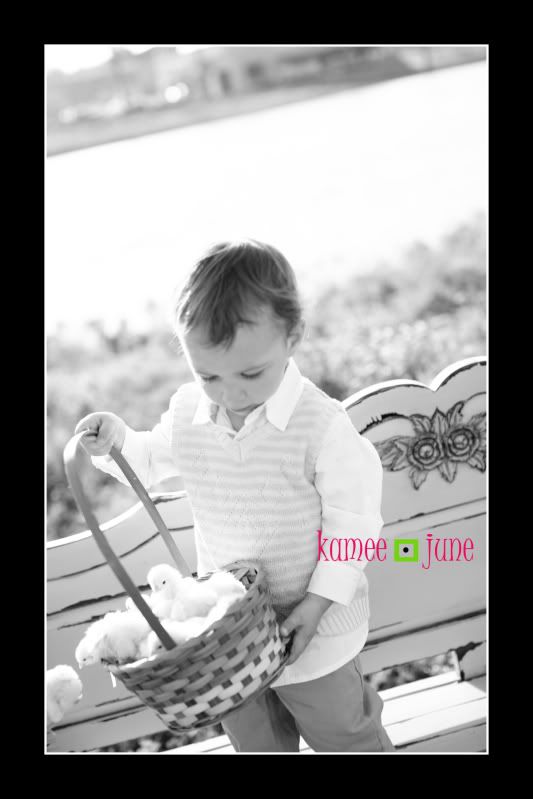 "Listen Chicken. I am the boss of this bench, and if I tell you to stay in the basket I mean stay in the basket. Geez! I am going to have to hold you by the neck until you take me seriously and listen to what I am saying."
"aaahhhhhhhhhhhhhhh!"
"AHHHHHHHHHHHHHHHHHHHHHHHHHHHHHHHHHHHHHHHHHHHH!!!!!!!!!" (I loved how the bird's face matched Presley's. Presley loved the birds a little too tightly; her dad had to do a little mouth-to-beak...I am proud to say though, that ALL of the chicks survived the ordeal. I thought I had lost two, but I had myself a flock of survivors. Good birds.)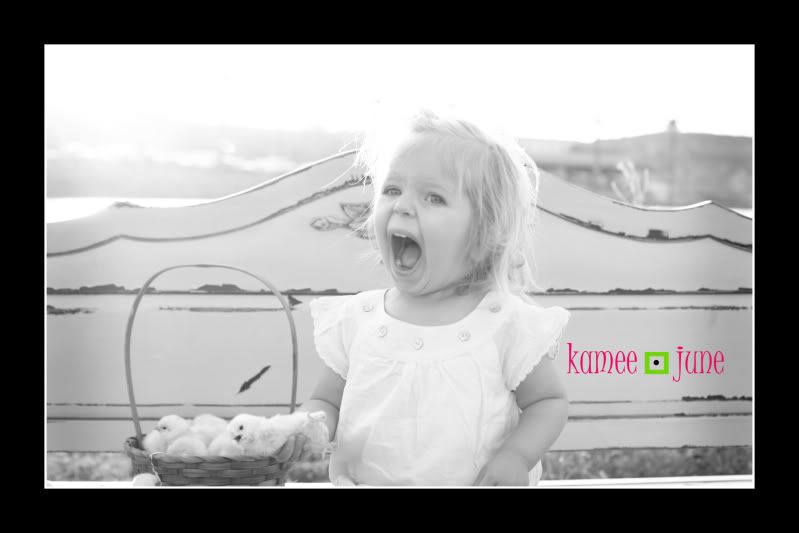 "These chickens are attacking me...somebody help...quick!!"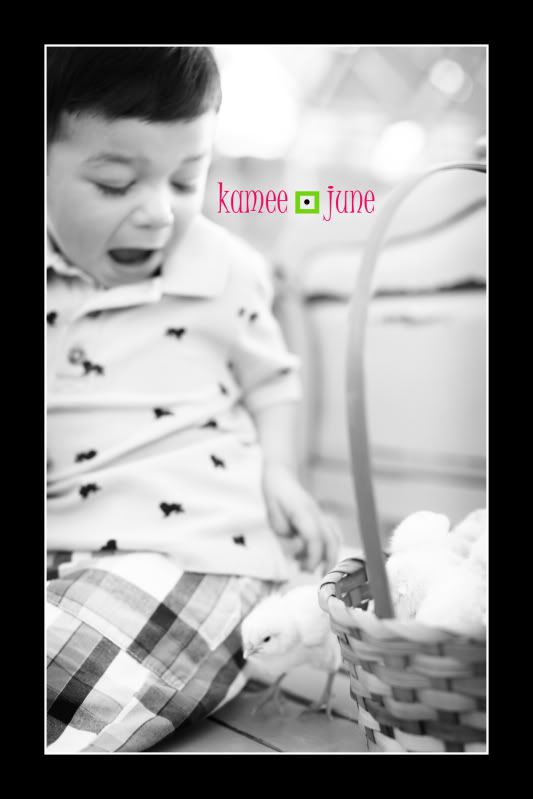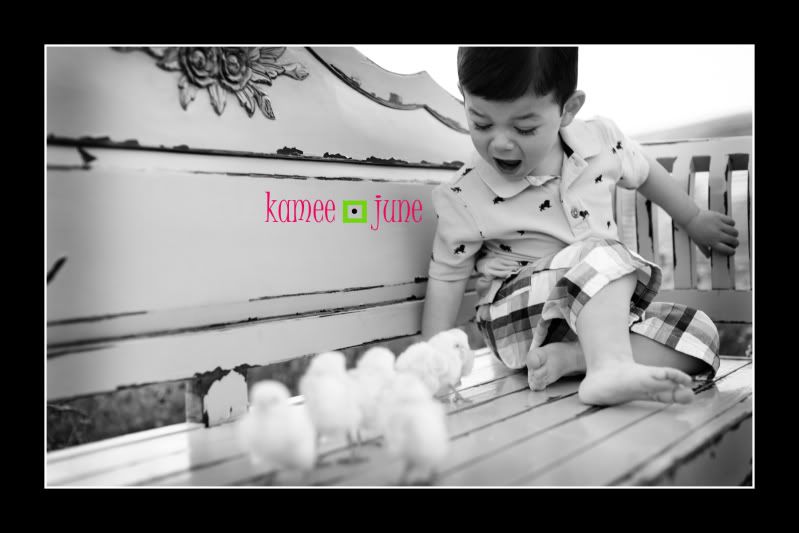 New Game: Chicken Bowling
Easter Egg: Ball
Chicks: Pins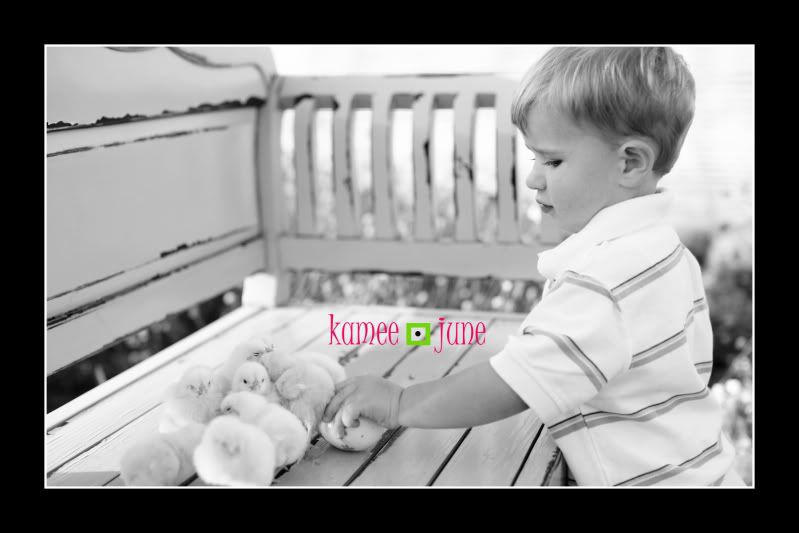 "Here I come Chicky, Chicky, Chicky!!" Take a look at his hand...
"I said STAY. Don't make me grab you by your head one more time..."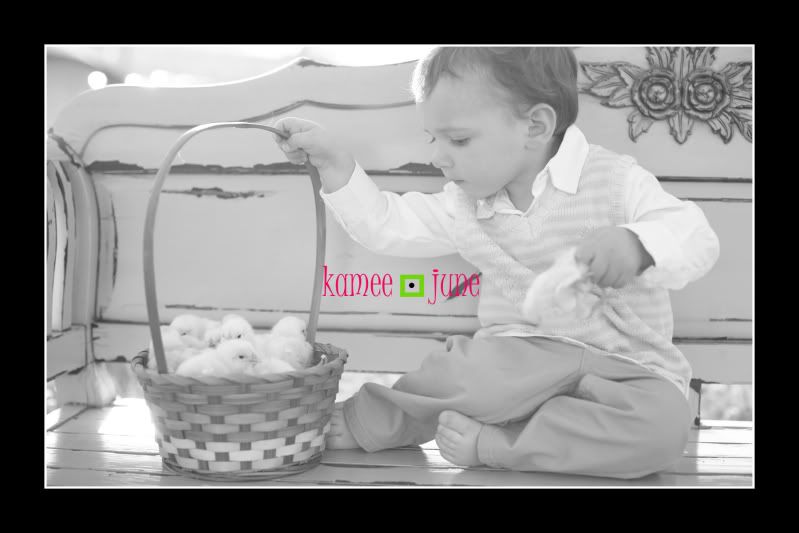 "Ooppsie. I dropped one."
"Sanctuary. Please!!" Poor birds. If there were such a thing as bird therapy they would have needed it!!
To all the moms and kids, thank you for allowing me the opportunity to photograph such loveliness!! May your spring be filled with continued joy and light! May you always see it in the faces of your children and in the world around you!
Katrina and Vickie, You are true A-listers!! Thanks for being there; I couldn't have asked for better
wing
men!! ;)
Happy Easter and Spring everyone!! xoxo Kam